International break update: own goals and awards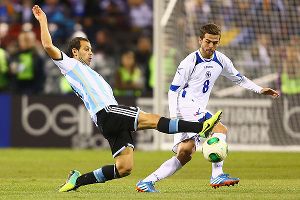 Dilip Vishwanat/Getty ImagesRoma's Miralem Pjanic, right, made a good impression on the opposing coach while playing for Bosnia in Monday's friendly against Argentina in St. Louis.
Some tasty news bits and talking points have emerged over the course of the international break: luckily, none are major injuries. Instead, we have coaches praising players, young center-backs looking to be on the verge of . . . something, and some updates on pre-existing injuries.

First, the bad news: the injuries around Roma still aren't quite cleared up. Gervinho is back in training and looks set to play. The rest? Not quite there yet.

Corriere dello Sport reported Medhi Benatia is still struggling with his calf injury, and Federico Balzaretti picked up slight muscle soreness. Moving forward from the back, Daniele De Rossi has some inflammation on the big toe of his left foot; whether this will rule him out against Cagliari on Monday remains to be seen. Having the match that late will benefit the side who can hope to recover some of the bodies for an always tricky tie. But, as ever, the proof will be in the call-ups. None of the injuries seem terribly serious, for what that's worth.

-Bradley aiming high this season

In terms of healthy players, Argentina's manager Alejandro Sabella had some kind words for Miralem Pjanic after the South Americans defeated Bosnia in a friendly Monday in St. Louis, Mo. "I think that Pjanic is one of the strongest Bosnian players, if not the strongest. He's technical and complete, I truly like him."

Pjanic has improved much of his game this season under Rudi Garcia, especially on the defensive end of things. The gorilla in the room continues to be his contract situation, but most reports seem almost certain he'll renew with Roma sooner than later.

Tin Jedvaj is 17 years old and playing for Croatia's under-21 team, bypassing the U-19s. RomaNews notes that his maturity and positioning are evident for all to see in his own country, raising the question: why hasn't he played for Roma?

The website speculated Garcia did not want to disrupt the locker-room order too much too early in the season and thus preferred Nico Burdisso when either Leandro Castan or Benatia was out, but may use the Coppa Italia as a chance for Jedvaj to earn his place on the pitch.

Other good news making the rounds for Roma players on international duty: Michael Bradley is one of the finalists for U.S. Soccer's Male Athlete of the Year, along with Jozy Altidore, Clint Dempsey, DaMarcus Beasley and Tim Howard. Douglas Maicon had an assist in Brazil's last match and thanked Roma for helping him return to his best, causing Romanisti everywhere to immediately return the thanks to him for banishing memories of years of mediocre full-backs.

And to end on a more off-beat note, the usually reliable Vasilis Torosidis scored a truly impressive own goal in Greece's match against Romania, which proved to not be terribly costly as his country won 4-2 on aggregate to make the World Cup over Romania. In fairness, Torosidis assisted Greece's goal on the other end of the pitch as well as in the previous leg. He may have given Romania a brief lifeline but overall was important in banishing his opponents.