If Roma had played, this is what would've happened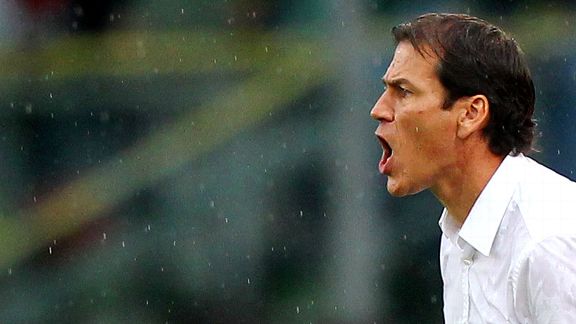 Paolo Bruno/Getty ImagesReal match or not, Rudi Garcia is a presence on the Roma bench.
It's Sunday and Roma should have played a match today. Because of the international break, they didn't. But why let that ruin the fun? Extrapolating based off of twelve matches in Serie A this year and years of fandom/pain/joy, the following is how today's Roma match would have played out, were they to actually have played one.

- Report: Pjanic staying at Roma for now

Thirty minutes before gametime: The starting XI has just been announced: Morgan De Sanctis; Vasilis Torosidis, Medhi Benatia, Leandro Castan, Federico Balzaretti; Daniele De Rossi, Kevin Strootman, Michael Bradley; Miralem Pjanic, Adem Ljajic, Alessandro Florenzi.

With none of the injured players quite yet ready to start and Douglas Maicon suspended for whatever he hypothetically may have done, this is Roma's strongest starting eleven. No one is thrilled to break up the midfield trio and Twitter complains, but everyone trusts in manager Rudi Garcia.

Opening procedures: Ah, right. Roma should have an opponent today, shouldn't they? They're in a run of mid-to-lower table teams right now (Cagliari, Torino, Sassuolo, Atalanta) so we'll keep with the trend: Genoa it is.

Minute 1: The game begins with the red-and-yellows trying to find a rhythm, passing decently until De Rossi launches a long ball for Ljajic to chase. He never gets to it.

3: A quick counter from Genoa almost leads to Alberto Gilardino scoring, but an amazing Benatia tackle in the box robs him of possession, before the Moroccan roars forward, dribbles through three players, and wins a free-kick right outside of Genoa's box, before standing up and transforming into a lion.

7: Pjanic's free kick hits the bar, causing Francesco Totti to audibly yell from the sidelines.

22: The first half has seen good play from Roma without many genuine chances, which is what tends to happen when four attackers are out injured. Ljajic looks to be clear through on goal but he's robbed of possession from behind.

25: Marco Borriello begins warming up and then trips and falls on the sidelines.

35: GOAL! Torosidis sends in a cross that reaches Florenzi on the far side, who one-times a spectacular volley off of goalkeeper Mattia Perin's chest and into the net.

36: Almost a goal from Genoa! Andrea Bertolacci, a former Roma player, acts like a former Roma player and nearly scores from 40 yards out. De Sanctis scrambles back to his line to knock the ball out for a corner.

39: Bradley and De Rossi literally run into each other, sending the ball directly out of play.

Halftime: It's been a solid opening 45 from Roma, who snatched a goal but don't look terribly comfortable. Garcia has Gervinho begin to warm up during the interval.

46-55: It's all Genoa, who have three shots saved, one cleared off the line by Castan and another chance missed epically after Pjanic runs his 100% pass completion for the game with a giveaway in Roma's box.

59: Gilardino heads the ball into the net… but there's a foul in the build-up! Somehow he pushed over Ljajic in the box, much to the surprise of everyone to see the Serbian in his own box, before the header. Roma really let off here.

60-75: The good guys back in control now, passing well but not creating anything. Ljajic wins a few free kicks that De Rossi tries to take; each time his lobs look for Florenzi, and by the third chance, Alessandro stops even running after them.

76: Against the run of play Genoa think they earned a penalty! It isn't one, however, much to the dismay of everyone waiting for Roma to lose. This incident becomes the most discussed event of the calcio weekend on blogs around the world as evidence of a conspiracy to gift Totti an S-word before he retires. Everyone else just yawns.

80-90: Garcia sends Gervinho on for Torosidis and I begin the period of the match where I bite my fingernails into nothingness and Genoa send wave after wave of attacks towards Roma's box.

97: After an unprecedented seven minutes of injury time to patch up Borriello due to a fall during his stretches on the sidelines, the match ends with Roma taking home all three points and my hair more gray than it was just an hour and a half before.