Break warmly welcomed by Roma front line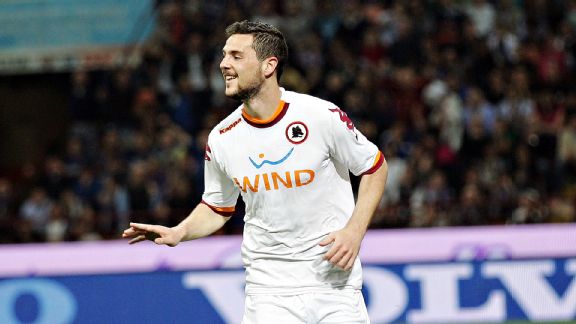 Gabriele Maltinti/Getty ImagesRoma's Mattia Destro is nearly recovered from his long-term injury.
International breaks tend to be stressful times for fans, especially if the matches are merely friendlies. Besides the ever-present fear of injuries (which is real and potentially long-term as Sami Khedira can unfortunately attest), the psychology of losing or drawing an important match can carry over from country back to the club. For Roma, however, this current international break has proven to be an opportune time for injuries. Barring any that might occur next week, the week's break from Serie A has allowed three absentees time to progress and near a return to the action.

- : Latest Roma news

Mattia Destro's recovery looks to be nearly complete, with the young Italian playing in a friendly against the primavera and scoring twice. Although the gap between most Serie A sides and their youth teams is indubitably massive, Destro looks to be nearly fully recovered and should be a true option for Roma much sooner than later. With match fitness key, he'll continue to train for the team throughout the week and should be an option off the bench against Cagliari come next Monday, the 25th.

Gervinho, too, looks like his injuries woes are behind him. Although he was called up for the Sassuolo match, he didn't feature at all for the side. He looks set to play a role in Ivory Coast's qualifier against Senegal on Saturday which should be a solid step in getting ready to come back onto the pitch for Roma as long as he does not re-aggravate his hamstring.

As for the captain himself, a timetable for Francesco Totti's return has not yet been specified by the club, but his recovery also seems to be going well; RomaNews reports he's back to running and scoring in training. Cagliari may be a game too soon for the captain, but Rudi Garcia definitely could use him during a tough December run of fixtures.

For Roma, the return of the trio could hardly be more important. Not only have the goals dried up since Totti and the pacey winger went down against Napoli, but the squad could use a boost against an always tricky Cagliari following two draws. And this won't be just any old Cagliari, but a team coming to Roma high on confidence after shrugging off three consecutive defeats with two goals from one of the giallorossi's biggest enemies, Daniele Conti.

A quick glance at the calendar reveals that it won't get much easier from then on, with December opening away at Atalanta before hosting Fiorentina, traveling to the San Siro to face Milan, and playing at home against Catania before closing out the opening half of the season after the break against Juventus at the Juventus Stadium.

Still yet to lose, Roma have proven to be a well-organized, mentally strong side in the league this year. Recovering the trio of attackers from injury should prove to not only bring the goals back, but also boost the side back into winning ways.