Michael Bradley more hindrance than help for Roma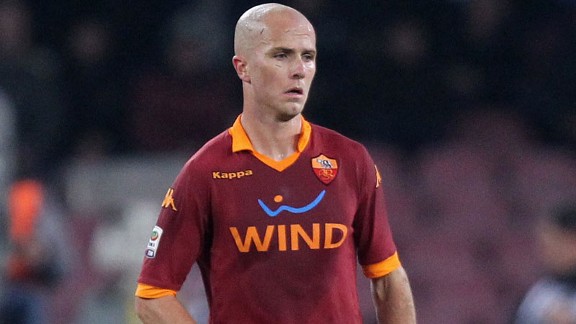 GettyImagesMichael Bradley has been important in Roma's rise.
So what is Michael Bradley, anyway?

Ask most Roma fans about the bald headed American currently occupying the Roman roster and most will generally fall into two camps. One believes that Michael Bradley is a very good player, perhaps not given enough time on the pitch to show his true quality, but that quality is no doubt there, as seen in his performances for the United States' Men's National Team. He should be fighting for a starting spot and has done well even as a substitute, demonstrating a know-how of being in the right place at the right time with his late winner against Udinese.

The other side believes something quite opposite: that Michael Bradley isn't really very good at all. Or, to clarify, that he's a good player but not Roma-calibre good. Maybe Zednek Zeman Roma-calibre good, but certainly not good enough for a team that has the ambition that Roma have, not even good enough for this current Roma side, failing to break the midfield trio for any real amount of time even taking his injury into account. He has heart but not positioning and his passing stats hide the fact that most of his passes don't contribute much at all to the team.

The truth is probably somewhere in the middle: Michael Bradley is a hard-working, amiable man who is nothing less than good depth to have for a team like Roma. With the squad particularly light in midfield given Alessandro Florenzi's emergence as a winger, the American is often the first substitute sent on late in a game. His winner against Udinese overstates how influential he actually is and his failure to clear the ball against Sassuolo is incongruous with how rarely he truly makes a mistake. Often, he just exists.

What isn't helping Bradley's case is that when he's been in the side recently, Roma have been worse. The most glaring is the obvious, aforementioned draw against Sassuolo just last weekend. When Marco Borriello went off injured a third of the way into the game, Bradley went on, forcing Miralem Pjanic higher up the pitch. Against Torino the week before he started as well, again pushing Pjanic on the wing as Roma's forward line crisis reached an apex, and once again the side drew.

He came on the week before that against Chievo, a match the team narrowly won, but appeared late in the game and replaced Pjanic instead of displacing him. Stretching back over the last month, Bradley was of course the hero in the win over Udinese, coming on with twelve minutes to go after Pjanic had already been substituted off the pitch.

So since Roma's 2-0 win over Napoli, something has clearly not been the same: four matches, four goals scored, two conceded. Before then, the side won seven in a row, scoring twenty and conceding once. What's the difference? Francesco Totti and Gervinho are injured and Michael Bradley is playing more than he was before, recovered from his own injury.

It would be foolish and nonsensical to blame the side's inability to finish chances on the American. That is almost entirely due to the injuries that have seen the front line decimated, with the additional losses of Borriello and Mattia Destro costing the team four strikers at some points during the last few weeks.

There is a clear pattern on the pitch, however: Bradley is deservedly a bench option when it comes to this Roma midfield. There's really no question about it. Daniele De Rossi, Kevin Strootman, and Pjanic are simply fantastic when the three of them are together -- and most notably when it's just the three of them. Adding Bradley into the mix seems to throw the chemistry off altogether. Pjanic ends up far more forward than he should be, De Rossi reverts to the long balls and regista-esque role that marked his style of play last season, and Strootman even disappears at times.

He may complete 94.98% of his passes on the pitch and he may lead the entire squad in passing completion, but this is a fantastic case of statistics deceiving: many of his passes seem to slow down the side, going backwards or sideways but not very often forwards and not very often incisive. He may make a suitable replacement for De Rossi or Strootman, both of whom are physical and thus more similar to Bradley, but taking over Pjanic's spot in the midfield tends to rob Roma of creativity and balance rather than truly add to it.

Not all is lost for Michael Bradley. Returning from an injury like he did means that he's spent less time than nearly anyone besides Destro learning exactly what Rudi Garcia wants from his players and his plan, and with his third coach in two years at Roma, one really couldn't blame him for taking some time to find his new shoes regardless. It's certainly not his fault that Garcia tends to throw him on in place of the Bosnian, which one can only assume will subside as the frontline begins to recover and other players will be able to fill in offensively.

Yet, when looking at how Roma have stumbled somewhat in recent weeks, not all of the blame is on injuries and fixture congestion; at least some of the imbalance tends to occur right when an American walks onto the pitch.