Keeping disappointment in perspective
Welcome to Heartbreak.

Hope is a funny thing. Four minutes before the end, Adem Ljajic was putting on a one-man clinic of keeping the ball near the opponents' corner flag and time-wasting; tactics that Roma absolutely needed to do in order to see out a nervy, nervy match against a Sassuolo side high on confidence. With the last breath of the game, Domenico Berardi's shot that snatched two points from the home side suddenly rendered Ljajic the villain as Roma paid for the failure of the young Serbian to finish off three fantastic opportunities.

Ljajic giveth and Ljajic taketh.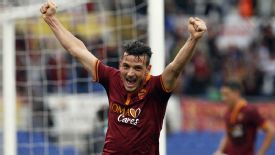 APRoma's Alessandro Florenzi celebrates after Alessandro Longhi's own goal for Sassuolo.
A second consecutive draw, a second consecutive goal conceded. For many teams, these are not issues. For many sides, 12 games unbeaten to start the season would be a massive cushion at the top, allowing two draws to really not be a big deal. For Roma, however, the bar was so high and Napoli and Juventus so good that by the end of Sunday, the side will remain in first but could be so by just a single point.

That, perhaps, is the issue. In a wider context, three goals conceded in 12 Serie A matches is superb. The team winning three and drawing twice since losing their most potent attackers, Francesco Totti and Gervinho, should be a sign of strength.

There have been struggles, but what team wouldn't struggle with a loss of that duo, Mattia Destro, and the absence of perhaps the league's best center-back Medhi Benatia and Marco Borriello at one time or another? This team is being stretched in terms of depth nearly everywhere, but the midfield so far, and Alessandro Florenzi's booking Sunday means yet another forward will not be available come Cagliari Nov. 25, Roma's next game.

Altogether, this is disappointment. For a split-second, a glimpse of the old Roma broke through, the one that could not finish matches, failed to convert chances, and conceded at the last second. Injuries and suspensions included, this is somewhat understandable. Every team, at one point or another, concedes a goal at an inopportune time and fails to get maximum points when they should. The problem with the old Roma is that this was systemic, a consistent problem that failed to go away. Under Rudi Garcia this has happened exactly once: Sunday.

The international break comes at a good time for this squad. Borriello's injury is yet to be determined, but Gervinho was fit enough to warm up as a substitute and the club have said Destro will be working hard during the break to get back into the first team.

It will also give Garcia a chance to regroup, tinkering with mentality and players to get things right against Cagliari at home and Atalanta away before a brutal December kicks in.

For now, however, the disappointment is hard to shake. There is no way this team should be in the conversation for the S-word, and even a top-three finish would be superb. If we go with what Garcia has said -- a return to Europe is imperative -- than even after two consecutive draws, the team are 11 points clear of fifth place pending the remainder of Sunday's results.

The season is very long yet, and there will be many more chances for every side to drop points. For Garcia and Roma, the key will be to return to winning ways as soon as possible to prevent an all-too-familiar slippery slope.