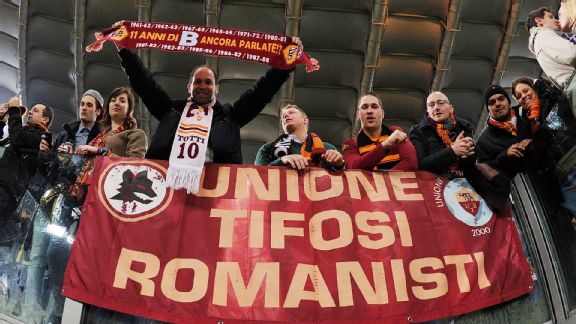 Giuseppe Bellini/Getty ImagesIt's still early in the season, but Roma's fast start has made it hard for fans to not dream of a Scudetto.
I'm nervous. No, really, I am. I know it almost defies belief at this point to somehow be worried for a team that has gone eleven matches unbeaten to start the league, but it's almost Pavlovian at this point. I've seen this team reach dizzying heights -- only once, in 2010, did I dare utter the S word and Roma in the same sentence -- only for the realities to come crashing back, waves upon a shore that drag more and more sand with them into the ocean until it looks like there's none left.

- Report: Garcia: Roma can't 'win them all'

I fear good runs to begin seasons. Time and time again it has proven to be the late bloomers -- those who awake in late January, shake the snow off their corpses, and strap their sprinting boots on -- who find themselves in the European spots by the end of the year. Take a look only at Lazio the past few seasons -- start very well, fade very hard. Inter did nearly the same last year -- a superb winning run in the fall and then a winter and spring were wins were nearly impossible to come by. These were challenges derailed by fumes that evaporated, exposing the mirage underneath.

In fact, it's so often the opposite that can be ideal -- Milan last season got their act together and just squeezed into the final Champions League spot over Fiorentina. Ask most neutral fans who had the better season, and most will gush about Vincenzo Montella's style of play, Borja Valero, and Daniele Prade's superb acquisitions. Ask any calcio fan what the only truth teller is in the sport and it will be the table. Milan are in the Champions League this season and Fiorentina aren't.

It all comes down to consistency. For the first time in years, quite possibly more than a decade, Roma have been playing with a consistency that is truly difficult to comprehend. Major players have gone down -- Douglas Maicon, Gervinho, Francesco Totti, Michael Bradley, Federico Balzaretti -- to injury or suspension and the machine just keeps rolling on. This past weekend was the first time that some weaknesses were even shown, and were there just a smidge of better finishing, all three points could haven't been Roma's anyway.

That's the part that scares me. This side could be for real; a true mash-up of youth and age, experience and ability, technique and grit. It could, conversely, just be the new Inter of last season: a team, that like any team, can go on a winning run, but after the first bump in the road comes falling apart at the seams, motivations undone and future results abandoned. A road trip left incomplete.

On the basis so far it seems like it's not the latter. There's a sense that too many members of this team have been left wanting success for so long that they will not want to let this opportunity go by. Who in all of calcio deserves a trophy more than Totti? How much heartbreak has Daniele De Rossi incurred while on this team, both personal and on the pitch? Do Kevin Strootman and Maicon personify anything as much as sheer desire to win in the style they play?

No, no. The real cause of my fear is hope -- the dangerous, dangerous thought beginning to root itself in my head no matter how I try to fight it. Juventus and Napoli are both better sides than Roma. Roma would do very well to just finish third this season, and surely no one could complain after last year. And yet, after thirty one points from a possible thirty three, at this very moment in time, part of me cannot help but dream for something more.

The rest of me knows that this is simply too small a sample size, that the Roma of old will find itself slipping sooner or later, that such thoughts will only harm the team in the long run. Rationally, simply enjoying the moment would be the best thing to do.

Yet it's that hope that simply won't leave my head at the moment -- and because how I fear it might grow if I acknowledge it, the S-word is no longer a part of my vocabulary.