Roma must rise after end of winning run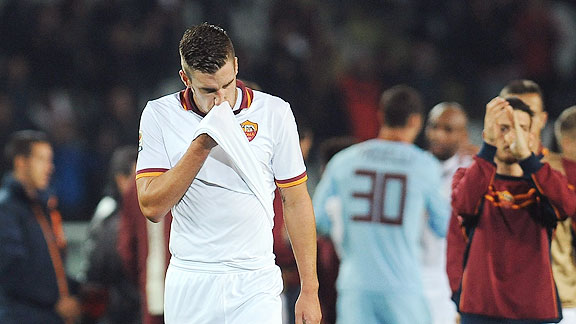 Valerio Pennicino/Getty ImagesKevin Strootman scored for Roma, but for the first time this season it was not enough to secure all three points.
With a 1-1 draw away at Torino, the inevitable has finally occurred: Roma conceded after a lengthy clean sheet spell and dropped their first points this season. The fact that it took eleven matches to do so is a testament to the strength and ability of the side so far this season.

- Report: Torino 1-1 Roma

Roma played very well in the opening spell, dominating possession which reached an apex with Kevin Strootman's slick finish to give the visitors the lead. In reality, the goal belied the poor shooting from the side, who continually failed to get shots on target -- in particular, Alessandro Florenzi found himself skying crosses and attempts that he would normally hit well.

After the break, the home side came roaring back to life and Roma failed to respond until the damage had been done. Somewhat controversial refereeing aside, Torino's equalizer was certainly deserved; no one earned a goal this match as much as Alessio Cerci who continually tormented Federico Balzaretti and Michael Bradley.

Roma responded very well after conceding, which is an immensely encouraging and important aspect for any team with real aspirations. Running on momentum is one thing; to prove that the side isn't running on smoke and mirrors is another, and with better finishing may have snatched all three points.

Instead, Rudi Garcia threw on Adem Ljajic later in the game than he should have -- an unusual mistake from a coach who has been superb with his substitutions all season. Once settled into the game, Ljajic did exactly what Roma would have needed before conceding; winning fouls in Torino's half, slowing down the game and the pace that the home side were furiously utilizing in their attack. Twice he came close to scoring off of free kicks.

If anything, a point away at a difficult venue is nothing to be ashamed about, considering the side missed Francesco Totti, Gervinho, Leandro Castan and lost Medhi Benatia to injury during the match, leaving Daniele De Rossi and Nicolas Burdisso to deputize at the back. Luckily Morgan De Sanctis put in a superb shift and prevented any other attempts, mostly from Cerci, from creeping into the net.

After playing three matches in the span of a week or so, it would have been truly remarkable for Roma to win their eleventh consecutive match to the start of the season. Still unbeaten, the side continue to top the league, but have both Napoli and Juventus just three points behind.

The silver lining here, at least in terms of the table, is that the second and third placed teams play each other next week; as long as Roma win against Sassuolo, they will create breathing space above at least one of the sides, if not both.

The winning run was certain to end at some point; though truly remarkable, it, like any consecutive winning stretch, is unsustainable. Great teams rise from draws and defeats and continue to play as well as they did before despite dropping points.

Thus, next week will be a stern test of this Roma side. With Leandro Castan and maybe Gervinho back, but Benatia out due to suspension and Francesco Totti in danger of missing, will Roma rebound to winning ways or stumble like a lesser side?