Midseason awards Part Two: The team and achievements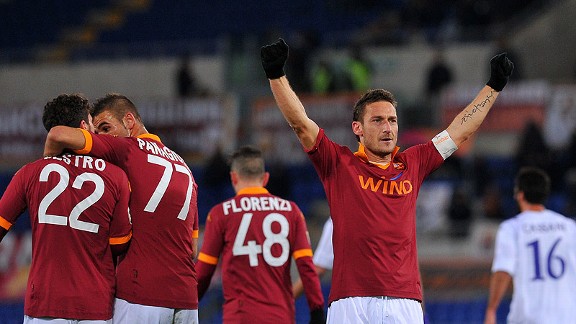 Tiziana Fabi/AFP/Getty ImagesFrancesco Totti's brace capped off an epic performance for Roma versus Fiorentina in early December.
Part one of my Roma Midseason Awards focused on individuality; this part focuses on the team, the matches, the goals and the inevitable heartbreak of it all.

Game Of The (Half) Season: Roma 4-2 Fiorentina. The amount of subplots that one could ascribe to this match borders on the ridiculous. For starters, it was Roma against the coach many wanted to return to the capital this summer -- Vincezno Montella -- the same man who has pushed Fiorentina into the realm of Champions League spot contention. It was the fourth match following three successive wins in the wake of the derby defeat, and the first of those to feature a truly difficult opponent. Finally, it featured the return of ex-Roma players Alberto Aquilani and Luca Toni. Roma responded in glorious fashion, with a brace from Francesco Totti proving to be the highlight of the team's four goals. The win confirmed that Roma were a far different team than they were earlier in the season; the side have only lost once since then, in the fog of Chievo.

Worst Game Of The (Half) Season: Juventus 4-1 Roma. Another match with a lot of hype leading into it, but the result could not have been more to the opposite (unless it ended Juventus 4-2 Roma, but that would have been a better result). Pundits had begun to ask if Zdenek Zeman would be the one to finally end Juventus' unbeaten streak, given the vast hatred and history between the coach and the club. He wasn't. Instead, Juventus went 3-0 up within nineteen minutes and easily saw out the match 4-1. It was a crushing blow for the capital side and condemned Roma to their second defeat of the season.

Scoreline I Never Want To See Again: Roma 2-3 Other Club. The phrase "2-0 is the most dangerous lead in football" is a cliche, and if you've never understood why, you haven't watched Roma this season. Roma somehow capitulated a 2-0 lead twice by late October; first against Bologna in the third match of the season (goals from Erik Lamela and Alessandro Florenzi in the first 16 minutes cancelled out by three Bologna goals in the final 18 minutes) and then against Udinese three days before Halloween when Lamela's early double was wiped away and then Udinese's comeback was capped off by Antonio Di Natale's 88th minute penalty. Roma would also lose by a scoreline of 3-2 one week after the Udinese match, to Parma, and two weeks after that in the Derby against Lazio. The saving grace? The side have only lost one since that Derby, and it wasn't by a scoreline of 3-2.

Best Showcase Of Attacking Talent: Roma 4-1 Palermo. It simply doesn't get much better than having all four main strikers (Sorry Nico Lopez) -- Totti, Lamela, Pablo Osvaldo, and Mattia Destro -- get on the scoresheet in one match, even if that one match is against a woeful relegation candidate.

Worst Showcase Of Attacking Talent: Chievo 1-0 Roma. Many may be content with blaming the loss on the fog, but the game could easily have been a draw if the side had been able to turn their 10 shots off-target into better goal-scoring chances (Not to mention both sides had the same amount of shots on goal).

Number Of Times Roma Have Scored X Goals: This is not as much of an award but rather more of a statistic. Roma failed to score only once in Serie A; notching one goal three times; two goals, seven times; three goals, three times (a side note here for the Cagliari goals); and four goals were scored four times.

I'd also like to award Roma the following Team Achievement Awards:

-- Football's Probable Source Of Heart Palpitations.

-- Team Most Likely To Make Me Regret Waking Up Early To Watch.

-- Team Most Likely To Make Me Relish Waking Up Early To Watch.

-- Fifth Annual Luciano Spalletti "What's Defense?" Award.

-- Serie A's Most Controversial Team Award.

-- Best Promoter Of Youth On The Peninsula.

-- Italy's Best Attack, Halfway 2012.