Centre-back shuffling: Castan out, hello Nico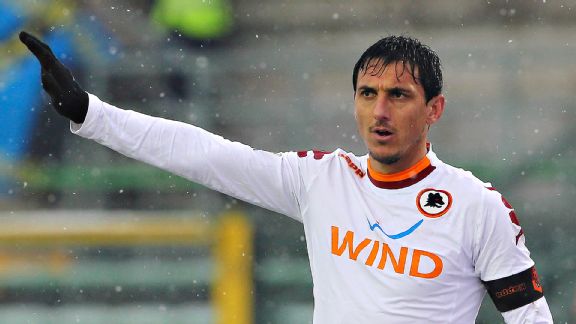 Marco Luzzani/Getty ImagesNicolas Burdisso will slot into a Roma back line that has only allowed one goal in ten matches.
If Roma's first choice backline is considered to be Federico Balzaretti, Leandro Castan, Medhi Benatia, and Douglas Maicon, then it's truly worth considering that a team which has only conceded once in ten matches played more often than not with a defense that's second string in one way or another. Week five began the shakeups; Maicon's injury saw Dodo enter in the first half against Sampdoria. Since then, there has not been a single match in which all four starters have finished a game, although that would be very different had Maicon not been sent off against Udinese.

- Report: Roma enjoy being history-makers

Thus, Roma's first choice defense has finished a mere 50% of matches in Serie A -- a rate that will drop even further this weekend as the defensive shuffling reaches an interesting new angle. With Castan suspended due to yellow card accumulation, Rudi Garcia will slot in a new centre back for the first time in the league under his reign.

With Nico Burdisso, Alessio Romagnoli and Tim Jedvaj waiting in the wings, Garcia could have chosen to keep the cards close to his chest and not reveal Benatia's partner until game time tomorrow. Instead, he revealed in his pre-Torino press conference today that the experienced Burdisso will take a starting spot in a very tricky away fixture.

It's impossible to evaluate how Burdisso has performed under Garcia because he never has. Instead, a look at the defender has to be based solely on his past with Roma. Typically, Burdisso could be described as a somewhat solid defender who has a bad case of late tackles and was off his game last season while Marquinhos and Castan established themselves as the best defensive pairing.

Yet comparing anyone to who they were last season would be radically unfair; under Garcia, nearly every player is performing at a higher level, from Miralem Pjanic and Daniele De Rossi to Federico Balzaretti and even Alessandro Florenzi. Whether Burdisso experiences a similar renaissance is yet to be seen.

For the sake of argument, Burdisso's stats last season were not terrible. In 25 appearances he had a 90% passing success rate (the second highest in the squad), won more aerial duels than anyone besides Marquinhos, averaged more clearances per game with 7.4 than any other player, and committed relatively few fouls with just 17. His nine bookings, the team's highest, speaks to the fact that his few fouls were often on the aggressive side. The team's record under Zdenek Zeman and Aurelio Andreazzoli speaks for itself, however, and Burdisso's stats probably don't accurately reflect his true defensive performances on the pitch.

Roma are of course a much different beast than they were last season. Castan has been nothing less than very assured at the back and his loss will be a big one, but the side have dealt with fullback-swapping more often than not, and Burdisso will have the superb Benatia to help cover and a De Rossi in the prime of his career to shield him.

For Roma not to feel Castan's loss, Burdisso does not have to be spectacular. Instead, much like Marco Borriello or even Rodrigo Taddei when called upon, the side will need him to put in a solid shift, make the simple passes and allow his teammates to take advantage of a leaky Torino defense.