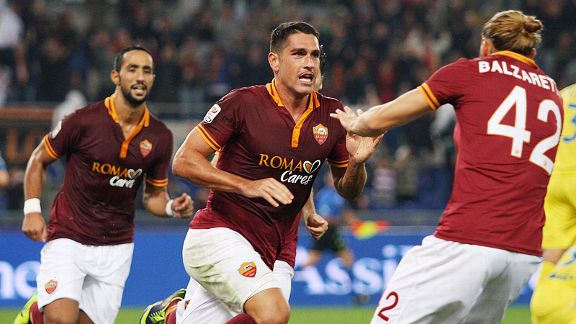 Paolo Bruno/Getty ImagesAS Roma's magical ride continued thanks to Marco Borriello's second half strike against Chievo Verona.
It was ugly, it was effective, it was historic and it was marvelous. No other team in Serie A history had ever won their opening 10 games, and just four months ago, no one would ever have expected it to be Roma.

Roma's 1-0 win at home over Chievo was not the side's best match of the season, without much spark or flair. In fact, before Alessandro Florenzi was sent on, only Adem Ljajic provided any sign of creativity among Roma's strikers. As usual, the defense was tight, allowing perhaps more space than usual to the opposition, but given who the opposition were on the night, such laxness went unpunished.

- Report: Roma 1-0 Chievo Verona

The side fought and battled, tooth and nail, to exert some kind of influence onto the match. After a poor first half, a second half turnaround under Rudi Garcia may have been expected, but the opening spell failed to produce any real results. Marco Borriello seemed to slip more often than he touched the ball and Marquinho failed to do anything really positive of note, besides shooting anytime the goal was within his sights.

It took another Garcia staple to turn the tide of the match: substitutions. Sending on Florenzi proved to be the spark Roma so desperately needed as he creatively turned a wayward ball in the box into a cross for Borriello to nod into the far side of the net.

It had consequences. Leandro Castan's booking means he will be suspended for the match against Torino on the weekend, forcing Roma to start a new center-back pairing for the first time all season. The space and time allowed to Chievo may seem worrying as well, should the side continue to do that against better opponents.

As ever, the only thing that matters is the score. A 1-0 win for a record setting tenth win in a row to begin the season, matching Luciano Spalletti side's record of eleven wins in a row if the calendar is extended to the last match-day of last season against Napoli.

The perspective now should be solely on the immediate and short term: no matter what happens or doesn't happen later on this season, the side have already earned a little piece of history, something to stand as a monument to the truly colossal nature of this side that has begun the season in near perfect form. Nine clean sheets and one goal conceded speak to such volumes.

Of course, there are higher aims and bigger objectives. On its own, this record is nice but certainly not the only thing the club would like to be proud of come May. For the upcoming months, the work Garcia's side have put in will have to continue and Torino will be a good test of how the side can cope without one of the starting center-backs, along with the continued absence of Francesco Totti and the possible exclusion of Gervinho, also due to injury.

For now? It's historic. Enjoy it.