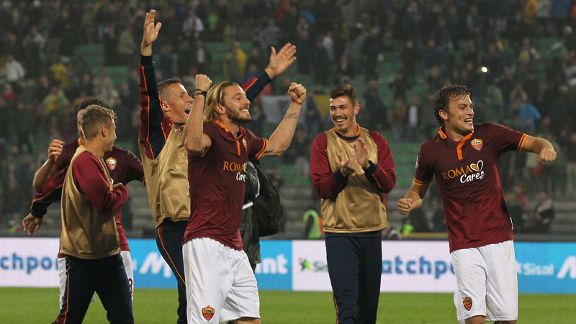 AssociatedRoma celebrate after claiming a late victory over Udinese through Michael Bradley's strike.
I rarely make predictions for Roma games any more (I'm too bad at predicting), and I never try to do more than just enjoy the match the club is currently playing without looking too far into the future. For the most part I also completely avoid first person on this blog but I don't know how else to state my sheer jubilation and surprise that Roma, after a 2-0 away win over Udinese, have matched the best ever start to a campaign in Italy.

- Serie A review: Roma march on

I was absolutely certain that this would be the hurdle at which Roma finally fell, the task too great to overcome. Not because Francesco Totti and Gervinho were absent (though their presence has only meant good things this season) but because this season has felt like a dream and all dreams eventually end.

Surely Roma would finally wake up at the Stadio Friuli where a Serie A loss for Francesco Guidolin's men last occurred over a year ago to Antonio Conte's Juventus. There is nothing, absolutely nothing, particularly devastating with losing away at a side that has since defeated Milan, Inter, Fiorentina and Lazio and it's perfectly acceptable to settle for a tie.

Roma didn't do either of those. For a long time it looked like they might -- Luis Muriel hit the post very early in the match and Udinese pressed forward, doing very well to capitalize on players out of positions on quick counter-attacks. For perhaps the first time this season, Rudi Garcia's 4-3-3 looked overwhelmed at times against the home side's 3-5-2, often overloaded in crucial areas. Roma's joy was coming down the flanks but crosses to Marco Borriello were dealt with all too easily.

The side did as it has done all season, slowly growing in confidence more and more into the match. By the end of the first half, Roma were more than equal to their opposition. By the second, Rudi Garcia's half time speech -- which Kevin Strootman later revealed to involve the players promising themselves that they would not lose – kicked in and another turnaround was underway.

Adem Ljajic and Strootman in particular played fantastically important roles. The former took the creative impetus upon himself in Totti's absence and became increasingly influential as time ticked on, pushing the attack forward and winning free kicks with his mazy dribbling. Strootman himself was nearly everywhere on the pitch in an effort to stem the tide of Udinese's midfield.

At the two-third's mark it all nearly looked over. Maicon's second yellow and subsequent expulsion left Roma down to ten, without one of their most important players this season, at one of Italy's most hospitable environments. In the aftermath it would have been perfectly understandable if the side did finally drop points.

Somehow they didn't. The mentality of this side has been transformed entirely by Garcia from a state of underlying fear to pure determination. Three spot-on substitutes managed to continue Roma's dominance and the last of them, Michael Bradley, finished with aplomb less than ten minutes to go off of a Strootman assist to give Roma a highly improbably, nearly unbelievable lead.

The lead was never rescinded. The team's performance was once again of the highest level. There were nervy moments, to be sure – a Leandro Castan clearance off the goalline for example – but this side has now faced Antonio Di Natale, Goran Pandev, Lorenzo Insigne, Jose Callejon, Rodrigo Palacio, Diego Milito, Miroslav Klose, Jorginho and Luca Toni - all together, players that have scored 26 goals this season – and have conceded only to Jonathan Biabiany.

Garcia called the match "the most beautiful victory" of the season, matching Fabio Capello's Juventus in 2005-2006 for the best start ever for a club in Serie A history.

This season has been nothing short of a dream. Like all dreams, it will have to end eventually, and at that time, we'll learn the true nature of this Roma side.

Until then, this side has done nothing but excelled and it's truly a joy to watch them succeed so much.