Garcia turns to depth and youth against Udinese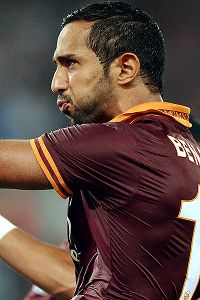 Filippo Monteforte/AFP/Getty ImagesRoma's Mehdi Benatia will be facing his former Udinese teammates for the first team since changing teams last summer.
The Roma that will line up against Udinese on Sunday might look a little bit . . . odd. Injuries are forcing coach Rudi Garcia into either starting players that have mostly sat on the bench or even slotting some further forward, somewhat out of position, in order to serve the team. In his pre-match press conference Friday, however, the former Lille boss did not seem preoccupied, but all eyes will be on Roma playing away at one of Serie A's toughest venues.

Despite underlining that Francesco Totti's loss is truly a big one -- "the side's best player" -- Garcia said the squad is strong and other options are available. He would not confirm whether or not a formation change would occur ("We must wait and see") but hinted it wouldn't, musing that Marquinho, Marco Borriello and Adem Ljajic could all play up front as well as Miralem Pjanic, should the latter be pushed out of position, a role where past Roma coaches tried him.

-Borriello wants Roma extension

In fact, Garcia stressed that Totti's absence could actually be a uniting factor for the player,, who he hopes will have extra motivation to win for their injured captain. Gervinho, Roma's other short-term absentee, may or may not make the bench, leaving younger players such as Federico Ricci and Gianluca Caprari to possibly get a chance to come on as substitutes.

Ljajic himself is a youngster who hasn't played much this season but Garcia underlined that he suffered from fitness issues early on and needs to continue working hard to help Roma's attack score when he comes on to the pitch.

While Michael Bradley's return to full fitness is a welcome one for the issue of midfield depth, utilizing him and pushing Pjanic forward would break up such a well-organized trio in the middle of the pitch. It remains inevitable that between suspensions and injuries Roma will have to substitute in others at one point or another. Rodrigo Taddei and Bradley himself have both played roles this season -- the former often as a late substitute, the latter playing roles in Roma's first two matches before injury -- without compromising the side's perfect start.

Despite the colossal nature of visiting Udinese, Garcia is not changing Roma's approach: "We're going there to win, like always." Last season only one team was so fortunate. Since Juventus' win at the Stadio Fruili more than one year ago, no side has defeated Francesco Guidolin's men in their own backyard.

No one knows that more than Roma's Medhi Benatia, who made the jump from Udinese this summer. In fact, Benatia was very close to leaving Italy altogether not terribly long ago as Paris Saint-Germain were interested in him two years prior, but Udinese blocked the move. Does he regret it? "In Italy I'm appreciated and that's enough for me."

He's certainly been appreciated at Roma so far -- and with the side's attack looking to be rather makeshift and secondary against Udinese, the squad will need the defense to continue to be as near impenetrable as it's been all season.