Destro's impending return will be a boost
It has been a long, long road to recovery for Mattia Destro. On Tuesday, Roma announced that the striker could begin full training after passing his final check-up on his knee. The news arrived with a sigh of relief: an injury nightmare which began in January was at long last nearing an end.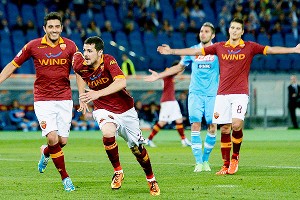 Andreas Solaro/AFP/Getty Images)Roma are eagerly awaiting the return of Mattia Destro (center).
With such a long layoff, fitness and match-day readiness will still be some ways away. For Roma, however, the impending return of the young Italian is nothing short of good. The timing was ideal; the same week Francesco Totti and Gervinho were ruled out for the short-to-medium term, another piece of the attack is finally healed.

Destro remains an integral part of the squad, despite playing very little this calendar year. With Pablo Osvaldo gone, the only other true No. 9 is Marco Borriello. It was only two short seasons ago that Destro shone with Siena, notching 12 Serie A goals and becoming the natural, arguably more talented replacement for the Liverpool-bound Fabio Borini that summer.

Under former Roma manager Zdenek Zeman, however. he never truly exploded as one might expect from a young Italian striker under the Bohemian. It took until November against Palermo to notch his first goal in the league, which was immediately followed by his first expulsion for his new club after receiving a second yellow card for removing his shirt while celebrating. Between competition for places among Osvaldo, Erik Lamela, and Totti, as well as the injury that struck after the winter break, Destro failed to get a good run of games or form.

-Ljajic ready to replace Totti

Thus, his return is more than a boon for the side, more than merely another attacking option that Rudi Garcia can shuffle into his deck. For Destro, it stands as a chance to prove himself. It is a shot to rediscover the form, the confidence, and the goalscoring he had while at Siena.

While the movement and natural instinct to be in the right place at the right time never deserted Destro, even when he missed easy chances last year, his finishing often left a bit to be desired. Whether it was due to being in and out of the starting eleven, niggling injuries, or something else entirely is certainly debatable.

The competition for places has not lessened at all this season despite the aforementioned sales. In fact, with Gervinho and Alessandro Florenzi shining in winger roles and Garcia demonstrating an affinity for a 4-3-3, Destro will find himself competing with Totti and Borriello for the central role.

Adapting to a wider role remains a possibility, but it would certainly take a titanic effort to replace either of the wingers occupying the spots.

Perhaps most ironic is that the new Roma injuries will give Destro his own chance to make the frontline his own. With Totti sidelined for an unknown time, the center of the front three is up for grabs. Should Destro get fit sooner than later, he'll merely have to beat out Borriello rather than the club's captain to become a starter.

His agent believes it will be sooner, citing a maximum of two weeks before Destro will be back to full training. However, he emphasized a need for calm and not rushing the player back, certainly with a view at not re-aggravating the knee injury.

For the immediate future then, Roma's depth at the front will be tested with both the young Italian, elder captain and Ivory Coast's winger out injured. However it should not be long now before the tifosi see the bearded striker Destro back on the pitch.