Who are you and can you please stay forever?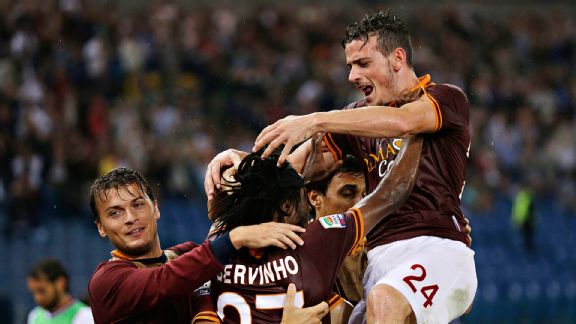 AP Photo/Alessandra TarantinoGervinho celebrates with Alessandro Florenzi, right, after scoring in Roma's rout.
If winning convincingly while not playing all that well is a sign of a great team, then Roma's 5-0 victory over Bologna Sunday certainly signifies a team going from strength to strength.

Truth be told, Roma only played particularly well for the opening half-hour or so, but Sunday that was enough: with three goals in the first 25 minutes and Bologna unable to mount any kind of comeback, the side rode out the rest of the match while adding two more great goals.

The story of this early season so far may be how effectively Rudi Garcia has been able to rotate the strike force; with Francesco Totti more or less a given -- as proven Sunday with two assists to take his tally so far this season to a league-leading six -- Gervinho, Alessandro Florenzi, Adem Ljajic and Marco Borreillo could all more or less stake a claim for being a starter due to form, position, or general effectiveness. It was Gervinho who stole the show Sunday, finishing off a fantastic counter in the 17th minute before signing a truly superb dribble with a top-corner pop in the second half.

Florenzi also justified his place in the starting lineup as he has so often this season, opening the scoring to get the side's first first-half goal of the season in the eighth minute. Little did the team know at the time that it would be the winning goal, but the young Italian celebrated as if it was.

Perhaps it was no surprise that one goal would suffice. The defense was tested as Bologna poked and prodded when Roma took their foot off the gas but once again failed to buckle. Medhi Benatia and Leandro Castan have made the Marquinhos transfer a distant memory; goalkeeper Morgan De Sanctis is rarely tested, but has not made a major mistake all season; Federico Balzaretti looks a new player following his Derby goal and Vasilis Torosidis did a more than acceptable job filling in for the injured Douglas Maicon.

It's often argued this Roma side don't have true depth, but the truth may be that it has as much depth as can be expected from a team in its third year without a European competition. Dodo and Torosidis now have both filled in for Maicon and neither have done anything less than a good job. With Nico Burdisso and Alessio Romagnoli available to fill in at the back, only the midfield is looking somewhat thin (though Michael Bradley's return from an ankle injury will help quite a bit).

Nevertheless, the side passed its first real test of depth with Maicon ruled out for two weeks. It wasn't always pretty, and against a better side they may have come to regret letting the foot off the gas for so long. But as is so often the tale with Rudi Garcia, the side managed to once again score twice in the second half.

A 5-0 win against Bologna, at the end of the day, is exactly the kind of performance this Roma side need to put in consistently to turn their back on the ghosts of last season. Next Saturday will be the first real test against a proper, top side at Inter, but Roma's issue has never been beating the top sides in the league. The side have not been in Europe for years because they've faltered against the Bolognas, Chievos, and Palermos of the league's recent past.

So far this season, the jury is still out on how the side will do in the face of more injuries, after an inevitable draw or loss, or how Garcia can motivate a side after such losses. Yet teams can only win points from the opponents in front of them, clichéd as it may sound and to that end, Roma have been perfect: 18 points from 18 points, including a Derby.

Once again, the side end a weekend at the top of the table. Will it continue for long? Will Inter take the first points off of this Roma side next weekend? It's impossible to say. Enjoy it while it lasts -- with anything near this kind of consistency over the course of the entire season, Romanisti may finally have something to smile about come May.

Roma have gone on streaks before only to come crashing back to Earth. Something about this seems different -- and the clean sheets and grinta certainly are -- but it's only September.

There's a very, very long way to go, but this is pretty nice, isn't it?