Totti turns 37; makes humanity question use of numbers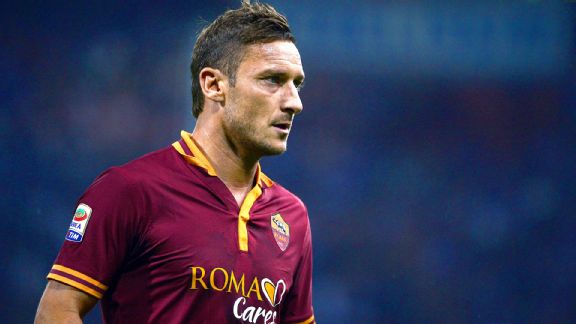 Olivier Morin/Getty ImagesThe ageless Francesco Totti continues to perform at a high level for Roma.
Francesco Totti turns thirty-seven today. Thirty-seven. No, really, read that again: [thur-tee-sev-in]. Thirty-seven! A man who does what he does, week in and week out, couldn't possibly be thirty-seven. Oh no. By that age most athletes are retired or washed up or receiving a massage paycheck in a league where one team is super rich and the others are just kind of hanging around.

- Report: Buffon backs Totti for Italy return

They're certainly not integral parts of teams with hopes of being one of the top clubs in Europe, and certainly not as an attacker. A backup-backup centerback in his mid-to-late thirties? Not unheard of. Maybe, just maybe, a substitute midfielder who makes a handful of appearances over the course of the season? Ok, fine, possible. A starting left-forward-moving-to-the-middle-heck-why-try-to-name-the-position-he-invented-it? Nope. Not this late.

Birthdays are an ironic holiday used to mark the end of years instead of the beginning. Totti has completed a full thirty-seven years in this crazy and marvelous world; Friday, truly is the first day of his thirty-eighth. For those who have never looked at it that way before, it may appear that Il Capitano has aged a year in just one sentence. Yet he seems to not be phased by it, so neither should we.

That's why birthdays have a contradictory existence, being one of the most significant annual events a human faces while simultaneously being not very important and the thing feared by everyone older than twenty-one. It's the human alone who becomes obsessed with the passage of time, keeping reminders everywhere from the front of the ubiquitous cell phone to a small clock wrapped around one's wrist. Time is supposed to tell us something: when to wake up, when to go to work, when to eat, when to go home, when to sleep. The civilized world couldn't run without it.

And yet, in spite of it, run Totti does just fine. Not as quick as he once used to be, but certainly nearly as effectively. For the past year or so, Totti has been in as good a shape as he was for three or four. The fruits of Zdenek Zeman's preseason are still ripe, still giving gifts to Romanisti worldwide. That can be measured in other numbers besides age: five game appearances, four assists recorded, three hundred and seventy four minutes played this season.

One capitano.

The rest of humanity uses birthdays as a reminder of aging. Watching Francesco Totti play, it is merely a reminder of youth.