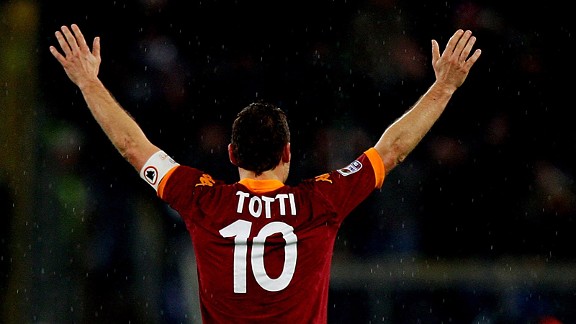 APRoma's Francesco Totti salutes his fans once more.
On paper, renewing the contract of a soon-to-be-37-year-old for an additional two years might seem like a foolish move. Thirty-seven is, after all, an age at which few players play the sport anymore or rather move to lower leagues, for one last paycheck. Goalies aside, not many are in the physical and mental condition to continue to play top level football. The most notable exception to this rule seems to be defenders, especially center-backs, who can compensate for a lack of speed with exceptional reading of the game.

Francesco Totti is none of the above: not a center-back, not a defender, not a goalie, not a player who's moving to lower leagues. He's arguably not even human. Totti will be playing for Roma until the summer of 2016 – and perhaps the biggest surprise of all is that it's no surprise. This was a widely expected move for the club, not just because Totti is the side's captain and best ever player, not just because he is truly a living legend, but because it's nothing less than earned.

After the fall of the Sensi family and the early Luis Enrique reign, it seemed that time may have finally caught up to Totti. It took him until January the year the Spaniard was in charge to finally notch a goal, struggling as the offense did under Enrique's style of play and with regaining form after injury. His tally improved as the year went on but at the end of the season he had scored a mere eight goals: his lowest tally in a decade.

Then, Zdenek Zeman. Totti's revival under last season's coach simply cannot be underplayed. Tucked back into a left wing role with the freedom to roam central, it was as if he suddenly had new legs. He looked fitter. His passing was better. He led the team by example, scoring twelve goals in Serie A. He was thirty six.

This season, it didn't take until January to notch a goal. It took slightly over half of one match to get his first assist, and a mere three games to put a splendid finish into the net to get on the scoresheet.

Time? Francesco Totti. Francesco Totti, time. He'll deal with you when he wants.

Romanisti now have the joy of watching Totti play on for another two seasons beyond the end of this one. His early form under Rudi Garcia suggests that the Zeman effect has not worn off at all. Instead, Totti is much like a fine wine, like that rarest of top class centerbacks that can close down the world's best attackers despite a loss of mobility.

It's a story that could have had no other real conclusion: with a contract running out this summer, and Totti in such splendid form, retirement would have been immensely foolish and a transfer away from Roma nearly unthinkable. Even comments at the new kit unveiling, suggesting that this jersey would be the last he played in, seemed like a twofold joke/tacit acknowledgment to the fact that his current contract was ending rather than an admission that he would be gone by next summer.

For Roma, today there are no disappointments. The king signs on and long play the king.