Alessandro Florenzi: Roma's new, not-so-secret weapon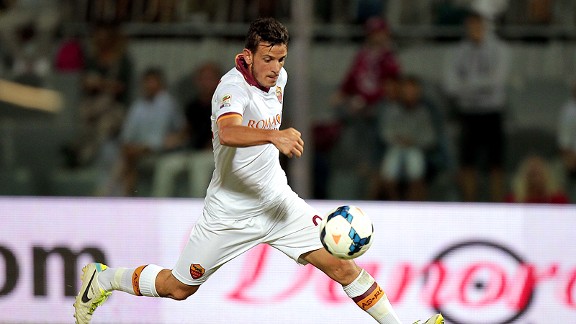 Gabriele Maltinti/Getty ImagesAlessandro Florenzi's play from out wide this season for Roma has been outstanding.
Alessandro Florenzi has so far proven to be that rare breed of success that every Romanisti wants to see from their club: a homegrown, Roman born-and-raised talent that broke into the senior side and has made himself a mainstay at a young age. In terms of debuts, it seems almost predestined: he scored his first senior goal for the side against last decade's most heated rivals, Inter, in his first ever start last season. Much of his progression is owed to Zdenek Zeman, who trusted the youngster enough to allow him to feature in more matches than anyone bar Ivan Piris, Leandro Castan, Erik Lamela, and Francesco Totti in Serie A in 2012-2013.

- Report: Totti close to new Roma deal

His adaptability has seen him become the club's modern day Simone Perrotta, which only seems fitting given that Florenzi joined the squad the summer that the World Cup winner retired. Used as a wide midfielder by Zeman, he was the only true midfield mainstay at the very beginning of the season. From his start against Inter on September 2nd up to and including the 2-4 away win over Parma on October 21st, Florenzi started every match in the league for Roma while the likes of Daniele De Rossi, Miralem Pjanic and Michael Bradley drifted between the initial eleven and the bench.

Against Udinese the following week, Florenzi replaced Pjanic in the second half but once again started the very next week, taking up his usual position on the wide left. That would be more or less his usual spot under Zeman -- sometimes the formation was varied to allow for a more condensed 4-3-3, but even then he was the side's furthest player wide, behind Totti. On rare occasions he started further forward, like on the right wing opposite Totti against Siena in December, but it became clear that his type of game thrived on runs into the box that began deeper in the pitch. He was, in essence, a tactical runner, and the perfect kind of youngster to thrive under Zeman as so many tend to do.

It's a testament to the importance he took on at Roma that the side's two most crushing defeats immediately after the winter break occurred without him in the lineup: the 4-1 thrashing at the Sao Paolo that began the side's slide, ultimately leading to Zeman's sacking, and the 3-1 loss to Sampdoria that began Aurelio Andreazzoli's reign both saw Florenzi come on as a substitute. The team had massive issues besides the youngster's absence, and at the time it was difficult to argue against a reduced role for him as he looked simply knackered as the season went on. But it may be important to note that he did start in the rare highpoints of that January and February: the wins against Fiorentina and Inter in the Coppa and draws against the latter and Bologna in the league.

In came Andreazzoli -- for five weeks straight, Roma went on an unbeaten run that saw a much diminished role for Florenzi. He came off the bench in the first of the five matches, against Juventus, with mere minutes to go, and was a second half substitute the following week in a 3-2 win over Atalanta. On 3rd March he failed to feature at all at home against Genoa, where the side won 3-1, before finally starting again against Udinese in a 1-1 draw six days later.

He retained a starting position for much of the rest of the season but was shuffled all over the pitch. Andreazzoli utilized him behind Pablo Osvaldo in a pseudo-trequartista role in late April against Siena, where he notched an assist in a 4-0 rout. Occasionally he continued his role on the left of a narrower 4-3-3, as against Lazio in the April Derby. Other times he found himself in a wider position behind the striker, alongside Lamela in the second band of a 3-4-2-1. At any rate, his role under Andreazzoli was much less defined -- perhaps taking note of the smart running he showed under Zeman, Andreazzoli was keen to use him as a utility player wherever the occasion rose. Or, perhaps, it was Andreazzoli tinkering to try and see where he would truly fit best.

Under Rudi Garcia thus far this season, he has unequivocally been slotted in as a starter; twice on the right wing in front of Pjanic and Maicon, once on the left in front of Kevin Strootman and Federico Balzaretti. For all of the talk of how well Medhi Benatia and Strootman have slipped into their spots so far this season, Florenzi's adaptability in playing further forward than he usually did last season has been nothing short of superb. It was his runs through Livorno's defense that consistently created space for Totti to exploit and saw him on the end of at least two fantastic chances, one of which he finished to give the side their second goal. It's no surprise that he equalized for Roma this past weekend after smartly running past defenders following a loose ball and finishing with aplomb to give Roma hope of getting back into the match.

When Lamela departed this summer and Gervinho arrived, with Mattia Destro out, it seemed that Totti would take one wing, Gervinho the other and Marco Borriello would play striker until the younger Italian's knee was fully fit. With Florenzi showing an immediate affinity for a wider, more forward role, however, Garcia has yet another weapon at his disposal: a young Roman who has run his way into the hearts of many fans already.