Roma wages revealed: bigger money for more experience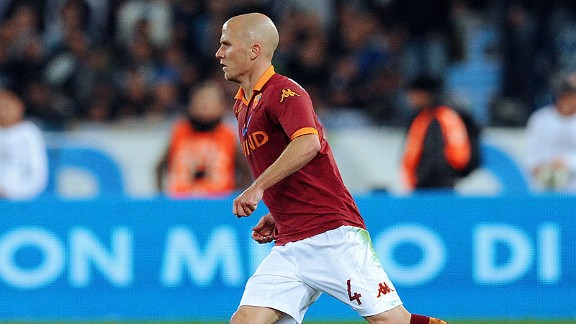 Giuseppe Bellini/Getty ImagesUnited States international Michael Bradley will reportedly earn 1.1 million euros in wages this season at Roma.
Every year, La Gazzetta Dello Sport does their own investigating and reports every Serie A team's wages by player for the year. The deals more or less have to be taken with a grain of salt; while Gazzetta is certainly one of the more reliable sports papers in Italy, there's no real way to verify their numbers. Roma used to post player wages for new acquisitions in their press releases whenever a new player was brought into the team but stopped after the 2011 season, now only listing their transfer fee and contract length.

Thus the grain of salt.

Nevertheless, the list, only available on newsstands as of today, has leaked onto the internet. What's most striking immediately is that the number of high earners on the club seems to have grown quite a bit. According to the report released by the same newspaper last year, Roma had five players making above two million euros per season, net: Daniele De Rossi (6), Francesco Totti (5), Nicolas Burdisso (2.5), Miralem Pjanic (2.05) and Pablo Osvaldo (2). Erik Lamela was on a low 1.2 million euros per season salary and Alessandro Florenzi was earning .03 million per season before his renewal halfway through the year raised it to roughly .65 million.

- Report: Totti nears Roma extension

This year, the squad has eight players earning above two million per season: De Rossi (6.5), Totti (4.5), Marco Borriello (4), Douglas Maicon (3), Burdisso (2.4) Kevin Strootman (2.3), Gervinho (2.3) and Pjanic (2.1). This should raise some suspicion as many of these figures are slightly off from the ones reportedly earned last season: De Rossi half a million higher, Totti half a million lower, Burdisso .1 lower, etc. This could be a rounding error, built-in raises/lowerings based on number of years into the contract, or potential bonuses.

Nevertheless, the rise is interesting: nearly all of the new arrivals are earning much more than the men they replaced. Marquinhos originally earned .8 million a year -- Medhi Benatia, 1.25. Lamela's 1.2 is significantly lower than Adem Ljajic's reported 1.9 million euros per year salary, though this certainly fits in with reports that Ljajic left Fiorentina because he wanted to earn about two million a year. Morgan De Sanctis, costing half a million euros, is arguably a bit of a bargain at 1.1 million a year; Maicon, conversely, cost the club nothing but is the fourth highest earner now. Will he possibly be worth that much?

This list certainly seems somewhat odd compared year to year. Destro was reported at a salary of 1.5 million euros last year but the paper lists him at 1.3 this season, which seems quite difficult to reconcile. If anything, a player's wages would tend to rise the further into a contract he goes, with the exception of older players who tend to take cuts as they age (which would account for Totti's reported wages this season). Michael Bradley reflects this bump, going from .8 last season to 1.1 million this season.

This year's lowest earners? Julio Sergio and Bogdan Lobont make roughly .3 million euros, with Alessio Romagnoli at .25 and Gianluca Caprari rounding out the senior squad with .2 million.

What can Romanisti take from this? If the figures are accurate, there seems to be a general trend: the cost of experience is wages. Lamela and Marquinhos were on lower wages that were easy to justify. Neither played in Serie A before and thus would have to earn their way to bigger contracts. Benatia and Ljajic, conversely, have both shown much promise over their time in the peninsula.

If selling Lamela and Marquinhos was necessary to balance the books, the fact that the club has more men making over two million a season now than before they were here is slightly troubling. Conversely, it may just be a sign that Walter Sabatini and James Pallotta realized they needed players of a higher pedigree to help the team compete for European places and have thus adjusted the wages higher, accordingly.

At the very least, some of the higher earners -- Burdisso and Borriello -- seem destined for an exit sooner than later, and Totti's contract renewal is rumored to have wages closer to Maicon's than De Rossi's.

For Roma, these rumored wages may thus make sense: an upward trend may seem incongruous with a summer of clearing youth for profit, but if it leads to entry into Europe and the additional income which derives therefrom, it may all be worth it.