Destro's injury: recapping a prolonged saga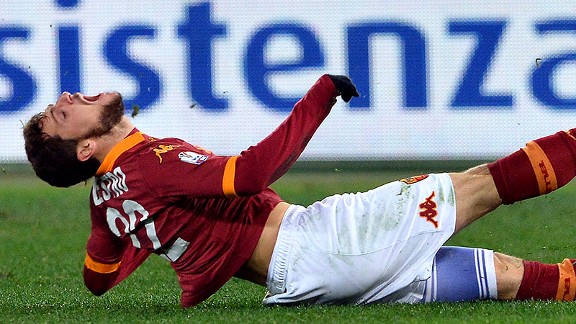 Vincenzo Pinto/AFP/Getty ImagesMattia Destro hasn't fully recovered from the knee injury he sustained in January, and there's been recent some finger-pointing as to why.it's taken so long.
Mattia Destro has been injured for most of the past nine months. His case, which seems as if it should be open-and-shut, has become a rather big story in the Italian press the past few days. Part of that is probably the lack of real news now that the mercato doors have closed and there are no Serie A games during the international break, but part of it is an interesting tale of two sides blaming each other over one kid's knee.

Destro's injury occurred last January in the first leg of the Coppa Italia semi-final against Inter, when striker came off injured after scoring the winning goal. Soon after, Roma announced Destro "twisted his right ankle and left knee," resulting in "a tear to the lateral meniscus." He would need arthroscopic surgery and seemed bound for weeks, if not months, on the sidelines.

Following surgery, he was out of action for nearly three months. He first returned to the match-day squad against Palermo in late March but failed to make it onto the pitch until the Derby against Lazio in early April, when he replaced Daniele De Rossi early in the second half. He was an unused substitute the next match Apr. 14 against Torino and finally returned to starting in the second leg of the Coppa semi-final against Inter three days later, where he scored a brace.

From then on, it looked as if his injury woes were behind him. He scored the following week against Pescara and played five more matches before the end of the season, scoring against Napoli and also starting in the Coppa final loss to Lazio. Devis Mangia called up the striker for the European Under-21 Championship, where he looked to be part of an incredibly talented Azzurrini side.

Here's where the real controversy begins. Destro found himself on the bench for the first match of the tournament last summer, behind Fabio Borini, Ciro Immobile and Lorenzo Insigne in the pecking order. He came on as a substitute in the second half, which happened again the next match.In the final group stage match against Norway, Roma's young Italian was finally given a chance to start but looked wasteful and was subbed off in the 72nd minute. He didn't play in Italy's final two matches against the Netherlands and Spain.

According to Giuliano Cerulli, who operated on Destro in January, the player suffered a relapse while on international duty. Cerulli blamed the medics on the national team for rushing him back, thus re-aggravating the injury, and not allowing Roma's medical staff to heal him.

Italy's U-21 doctor, Angelo De Carli, refuted the accusations, claiming that Destro arrived for the tournament in "decent" condition and that he left the squad after the tournament in better shape than when he had arrived.

At any rate, Destro's injury continues to plague him. Mensici injuries are usually slow to heal due to poor vascularization, and it's been suggested that factors such as weight gain due to his time off may also have slowedhealing, though the validity of those claims is certainly debatable.

What's important for Roma and Destro now is that the same mistake is not repeated twice: he must take his time recovering and only come back once he's healed and ready, not because there's a major tournament looming in the distance. Marco Borriello's brace against the youth Roma side suggests there may be some life left for Mattia's older deputy, but for Roma's sake, the club's younger Italian striker needs to be fit and ready to play.