To Alexander Doni: The contradiction retired before his time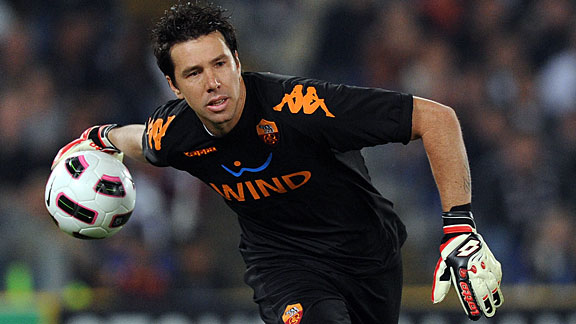 GettyImagesAlexander Doni's legacy is perhaps not favourable but his service to Roma will not be forgotten.
2005-2009 was a very warm period in Roma's history, where the capital club won two Coppa Italia cups, one Supercoppa and finished second thrice. These were the glory days of Luciano Spalletti's joga bonito, backheels and strikerless formations, Francesco Totti redefining what it meant to be a forward and Romanisti worldwide dreaming of success. It also was the era of blackouts and mental weaknesses, coming-awfully-close-but-just-missing-out, eternally bridesmaids to Inter's gal in the spotlight. The beauty was never far from the beast.

Donieber Alexander Marangon was as much a part of that beautiful and the damned as anyone on the squad: Mirko Vucinic up front, Daniele De Rossi and David Pizarro in the middle, the formidable pairing of Juan and Philippe Mexes at the back – and behind them all, the occasionally clumsy, positionally errant, unexpectedly gamesaving goalie from Brazil.

At the age of 33, he shouldn't have retired as he did on Monday. Goalkeepers can play for years beyond that – perhaps not at the very highest of levels unless he's a very highest of keepers, but football lives in the lower leagues and relegation teams as well as in the ambitions of the winners. An underlying heart condition – arrhythmia, according to La Gazzetta Dello Sport - revealed only after leaving Liverpool earlier this year precluded any real hopes of being able to play football again. After a routine medical, the keeper suffered a heart attack last summer. With Fabrice Muamba and Piermario Morosini still in the spotlight, a return to the sport seemed dubious at best and dangerous to say the least.

Against the tide he swam, transferring to Botafogo, perhaps hoping a return to his native Brazil would allow him to continue his profession. A month later, he retired from international football and after failing to make any appearances in his new league, finally called it quits permanently.

His legacy has been perhaps unfairly tainted by memories of his mistakes, of clumsy positioning on free-kicks and an inability to make saves on penalties in big games. That, however, would be simply too reductive; much like all of Roma at the time, Doni embodied a hybrid and contradictory nature. He was often as brilliant as he was errant, as much a game-winner as a game-loser. This was the man that Daniele De Rossi said was "the strongest goalie that I know" behind only Gianluigi Buffon, the same man who played through injuries to keep Roma in matches and wore his heart on his sleeve as any great Roman would.

He was the goalie in the net when Roma defeated Chelsea in the Champions League in 08/09, making several fantastic saves including an intervention on a Frank Lampard shot on trajectory into the top corner of the net. He started in both matches against Real Madrid later that season, appeared in both legs of Roma's Coppa Italia triumphs in 2007 and 2008, and helped lead Roma to three near-Scudetti.

But it was also he who let in a Sebastian Giovinco free-kick that cost Roma a dear two points against Empoli, standing too far forward to parry the ball over the bar. He who received a red card in one of his four appearances for Liverpool, conceding a penalty in a 3-2 loss to Blackburn. He who conceded seven than infamous night against Manchester United.

The glory and the pain, the brilliant and the foolish.

When Rosella Sensi left the club and Thomas Di Benedetto took over, there was little doubt that upgrading the goalkeeper position was a priority for Roma to have hopes of evolving from "trophy hopefuls" to "trophy winners"; a loss of form, rotten relations with the fans and an inability to lead Roma over their inconsistent mentality signified that change was perhaps necessary. Like many players on the team, Doni was unable to get over mental weaknesses to make the jump into bona fide winners. The golden age of Spalletti was over and out went the coach, the president, and the goalkeeper.

The story of his transfer is rather routine as far as goalies go – fell out of favor at Roma, transferred to Liverpool with hopes of gaining some form and playing time, ended up playing as a backup to Pepe Reina and never really making an impact. Perhaps he never would have at Anfield – Reina was simply too good of a keeper, and Doni surely needed more than a backup role to shine. The real tragedy is now that his redemption cannot occur anywhere. Instead, his career has abruptly ended amidst health concerns, over two years after last being a true protagonist for his team.

Yet, the focus should be on his life. Football is merely a sport and surely being alive following the traumatic heart attack is reason enough to celebrate. His career will be looked back upon as one of missed opportunities, but that is perhaps how Roma in the Spalletti-era will be viewed as a whole: glorious and ugly, capable of joy and self-inflicting wounds, reaching desperately towards a golden trophy only to have it snatched away just as it brushes the tips of a finger.