The difference between Manchester United and Udinese is Erik Lamela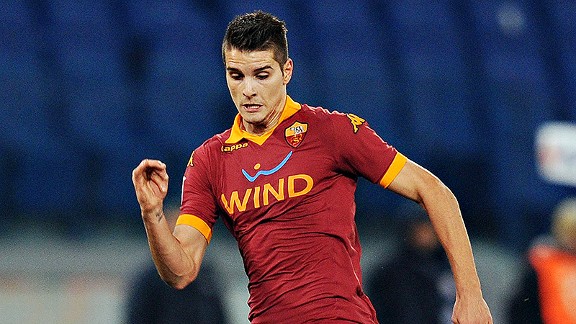 Giuseppe Bellini/Getty ImagesIn his second season at Roma, young Argentine striker Erik Lamela amassed 15 goals.
Exit Rumblings

The 2013-2014 Serie A season is a mere nine days away from the first kickoff; Roma take the field the following day, away to Livorno. For the most part, the mercato aspect of the off-season seems all but closed. Marquinhos, Nico Lopez, Maarten Stekelenburg and Panagiotis Tachtisidis have all left, offset by the arrivals of Gervinho, Kevin Strootman, Douglas Maicon and Morgan De Sanctis. The squad seems more or less complete at this point – perhaps a fullback or two shy of true depth, but without many if any more arrivals expected. A departure, however, may be occurring.

The Italian press reported early yesterday morning that Roma have sent representatives to London. The club involved? Tottenham. The men shipped over to dicuss? Walter Sabatini and Mauro Baldissoni. The rumored names? Erik Lamela, Miralem Pjanic, and Pablo Osvaldo. The risk here? Slight but perhaps real.

The link between Roma and Spurs is obvious: Franco Baldini. The former Giallorosso director is now at a similar post for Andre Villas Boas' side and had a major role in the acquisition of all three players. He knows them well; Real Madrid want Gareth Bale; Tottenham will need a replacement; Lamela is really quite good and a natural fit.

That line of thinking seems logical and natural and could bring massive benefits to Roma, nearly all of which would come in the form of millions and millions of potential Euros. The club, however, really couldn't sustain the sale of another young starlet; Marquinhos was a harsh blow soothed by the absurd fee that PSG paid and the acquisition of two genuinely quality, experienced players in Strootman and Medhi Benatia. Lamela has spent a much longer time at the club, improved noticeably in his second season, and seems to have the world at his feet.

If one sale of a young great player was bad enough, the sale of a second could lead to more questions than answers. Chief amongst them will be the nagging sense that Roma aren't really in this for the trophies but for the money; for the right price, every player might be sellable but parting with two of the best and youngest players in the squad in one summer doesn't say much about ambition. It only says much about cash.

Which, at the end of the day, must take a backseat to other priorities. As long as the club is financially stable there are some offers that must be resisted if this project is to have any significance at all and mean anything other than using the club to develop young talent and then sell them away when the price is high enough.

Manchester United sold a player as great as Cristiano Ronaldo; one of the chief differences between they and Udinese is that they were able to bring in other quality players and keep hold of world class talents to continue to win. The latter? They sell and replace and sell and replace and…

Roma is at a precarious position in its history: this new era could turn the club into a Manchester United or an Udinese. The line between the two has rarely been so thin.