Top five things Roma must do to have a successful season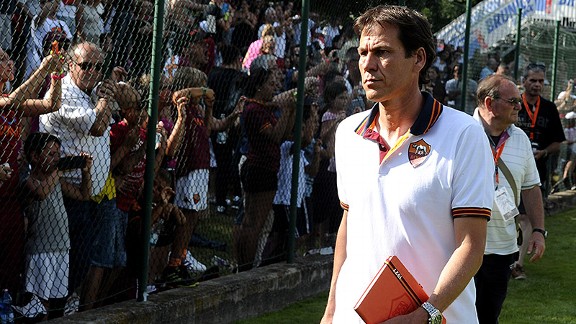 Claudio Villa/Getty ImagesNew manager Rudi Garcia hopes to instill some mental toughness into his Roma side this season.
Roma's season opener is upon us, and there are five key areas in which Rudi Garcia's side must have success in order to show the rest of Serie A that the Giallorossi are ready to return to the league's elite.

Gel at the back. Douglas Maicon, Medhi Benatia, Leandro Castan, Federico Balzaretti and Morgan De Sanctis might be a great backline. It's unlikely -- it'd be more likely if it were three years ago -- but it could happen. Fortunately, for what was one of Serie A's worst defenses last year, the bar is so low that they don't have to be great. They just have to be decent. If the players can form some kind of chemistry and just prevent silly goals like the side have leaked over in the last few years, more points will come on their own. Castan and Balzaretti have the benefit of having played together last year; Maicon, Benatia, and De Sanctis are all Serie A proven and don't have to adjust to the league. They all just have to adjust to each other and to Rudi Garcia's tactics. Heck, Balzaretti and Maicon playing at 50% of their peak level would probably give Roma an extra nine points next season alone.

Party at the front. This side has no problem scoring goals and Garcia needs to ensure that defensive balance doesn't come at the expense of stifling attack. It's not in Roma's DNA. Luckily, the team is quite stacked with forwards and offensive players; the secret might be as simple as ensuring the wingers in a 4-3-3 track fullbacks and that the midfielders return to position quickly when possession is lost. The marauding Kevin Strootman should easily be a great asset to both sides of the team.

Mentality. Roma are an unbelievably fragile team; there's really no point beating Juventus if the side are just going to lose to Chievo the following week. Garcia's biggest job will be teaching the players to play with the same intensity that they do against the bigger sides when facing the relegation ones. The points lost to the sides that went to Serie B last season would have been enough for the side to qualify for Europe.

Mentality. Roma's players tend to be pretty fragile, too. Garcia will have to nurture quite a few egos/head-cases and make sure everyone is playing to their best. Daniele De Rossi is an obvious choice for a player who has had far too many below-par seasons for a player of his caliber, but even Alessandro Florenzi and Erik Lamela faltered at times last season. Losing form temporarily is inevitable for any player -- great coaches can minimize time spent without confidence and get players roaring to the best consistently.

Don't forget the kids. The primavera is one of the best in Italy and Roma are chock-full of great youngsters. The arrival of veterans like Benatia and Maicon are fantastic for the side's present but Alessio Romagnoli and Dodo need to get minutes occasionally throughout the season in order to be ushered in when their time is right. Perhaps co-ownerships would be ideal solutions for the duo but a large chunk of Garcia's job will be making such calls.