Will the real Gervinho please stand up (and join Roma)?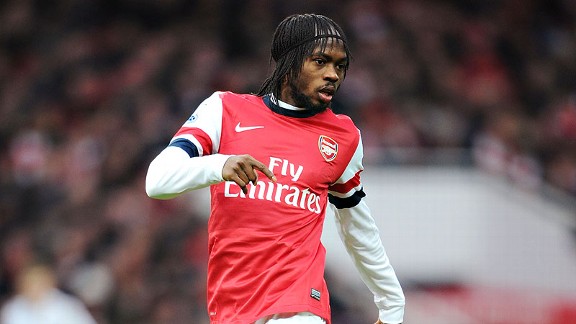 David Price/Getty ImagesGervinho: Struggled at Arsenal after winning French title with Lille.
Gervais Lombe Yao Kouassi, also known as Gervinho, is far from the most glamorous Roma signing of the summer. Kevin Strootman certainly takes the cake for the biggest coup; Douglas Maicon and Morgan De Sanctis are arguably bigger risks. In fact, Gervinho's transfer may just seem like a bit of a head-scratcher.

- Gervinho 'in Italy for Roma medical'

The Cote d'Ivoire forward has had a rough time fitting in at Arsenal yet will imminently be Roma's barring a last minute collapse of a deal that Arsenal manager Arsene Wenger himself has confirmed is a "good way" done (though with the Roma's policies this season, don't be surprised if it isn't announced as completed for a while).

Do Roma need Gervinho, or does Gervinho need Roma?

Let's take a trip down memory lane. It's the end of the 2010-2011 season in Ligue 1. A man named Rudi Garcia has just led Lille to a league title, the first in over fifty years, bringing the best out of talents like Eden Hazard, Moussa Sow, and... Gervinho. The latter finished the year with 15 goals and ten assists, the second highest goal-scorer on his team. He was hungry. He was direct. He was powerful.

His time in England was much different. Once full of prowess, Gervinho looked shorn of confidence. In two years at Arsenal he scored a combined total of nine goals - lower than either of his two seasons with Lille. The differences between England and France are plenty: culture, type of football, weather, on and on. One of the biggest, however, was almost certainly club-based expectation. Lille's title win was a surprise - their first in nearly half of a century. Arsenal have gone eight years now without a trophy and fans are up in arms.

Was Gervinho the victim of a poor system with infrequent playing time or a player that failed to perform when the spotlight was turned up?

Rudi Garcia should know. Should Gervinho complete his move to Roma, it will be the third time the player is reunited with the coach. The first was the 2007-2008 season with Le Mans, Gervinho's first in France. It would only be fitting that the same man nurture him during his debut year in Italy.

A winger would certainly be a welcome addition to Roma's squad. Erik Lamela is a certain starter on the left flank but Gervinho is capable of playing on either wing and will a new option to the squad.

Depth - and quality depth - is an issue that has plagued Roma for seasons now. Gervinho may be the difference between a bona fide winger starting in a Coppa Italia semi-final in spring or playing Miralem Pjanic out of position. Gervinho, if in form, may be the difference between capturing the Coppa Italia in May and finishing runners-up. Gervinho could be the difference between a decent coup at a low cost or a waste of money for a player that hasn't looked good, flashes aside, in two years.

We just don't know which Gervinho will show up, but Rudi Garcia is betting on it being the player he knew at Lille.