Not-so-secret new arrivals
Walter Sabatini is a sly dog. So sly, in fact, that Roma have brought in two new players without even announcing it.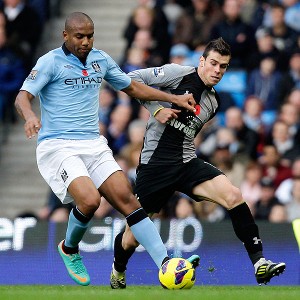 AP Photo/Jon SuperSerie A fans will remember Maicon for the tough night he had against Tottenham's Gareth Bale three years ago in the Champions League.
Douglas Maicon has been signed but Roma hasn't quite made it official. rumor is the directors need to free up a non-EU spot before unveiling him officially, although this seems a certainty given that a picture of Maicon training in the new kits was posted on the side's Facebook and Twitter pages. Yet without crucial information like a transfer fee or how much his salary is, the Brazilian full-back is a tough arrival to judge. Any gamble would be without knowing how much was put down on the table before looking at the cards.

Certainly, he's nowhere near his best that he was during his glory days at Inter and he arguably hasn't been since that fateful night against Gareth Bale when "Taxi for Maicon" became a famous football slogan. On the other hand, with the World Cup approaching at the end of the season, the full-back will be more motivated than ever to earn a Brazilian callup.

He's 31 years old, which is on the upper end of the age spectrum for a fullback. This is clearly not a long-term signing by the club but it doesn't have to be: with low enough wages and a small enough transfer fee, Maicon could be a tidy stop-gap between the departure of Ivan Piris and bringing in another right-back. He would also be a fantastic mentor for fellow Brazilian Dodo and would allow the club to focus most of their money this summer on addressing a regista and a goalkeeper.

Such as Kevin Strootman. Confirmed already by his former club PSV, the 23-year-old Dutch midfielder told Gazzetta dello Sport that he was happy to be a Roma player despite a long and drawn-out negotiation (so long and drawn-out that it isn't even official yet. Sensing a pattern here?).

The versatile and creative midfielder would perfectly occupy the slot filled by Panagiotis Tachtisidis last season and could well be the regista Roma have needed ever since David Pizarro was shipped out. He was a hotly desired transfer commodity and comes with a fee rumored to be around 20 million euros, but Roma is being all secretive and not announced his arrival, fee, or wages yet, either.

Yet either of these players could (and in the latter case, should) provide a solid jump in the quality of the team over last year. With Franco Baldini no longer at the helm, Walter Sabatini has gone on a slightly different course of action in the mercato. Last season saw many young gambles being taken: Piris, Tachtsidis, and Marquinhos, just to name a few. Federico Balzaretti was acquired as well, but the club had a clear focus on younger players.

So far this summer, Medhi Benatia, Strootman, and Maicon show a different take on transfer dealings. The new scheme isn't quite "get older players: as only the latter is anywhere near 30, but the lens is absolutely through experience. All three players have vast amounts of it for their age, whether it be in Serie A, internationally, or a mixture of the two.

Tin Jedvaj's arrival does suggest that Roma are still interested in investing in young unknowns, but year three of this project simply needs to be more successful, and that's just natural.

At any rate, Rudi Garcia's tenure kicked off on the right foot Wednesday, with a much expected 9-1 thrashing of local side Bruinco. Some tidbits: Alessandro Florenzi changed his number from 48 to Maarten Stekelenburg's 24 and scored a brace along with Pablo Osvaldo. Marco Borriello (remember him?), some guy named Francesco Totti, Miralem Pjanic, Erik Lamela and primavera player Marco Frediani also scored.