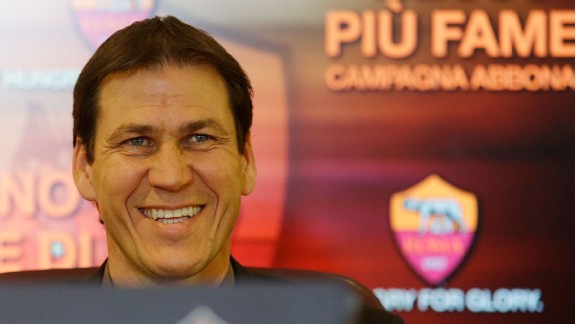 APRudi Garcia's Roma squad is beginning to take shape.
Roma have acquired their first new player of the summer, according to a club that isn't Roma. Dinamo Zagreb confirmed on their official site a rumor that broke late in the day: an agreement for center-back Tin Jedvaj has been reached between the two sides. Pending FIFA authorization –- necessary given that he's just 17 years old –- the Croatian will be playing in Italy next season.

This transfer screams "Marquinhos." After all, it's not the first time in recent seasons that the club has acquired a young center-back from a foreign market, and Jedvaj is somehow a year younger than Marquinhos was when Roma bought the latter. Although certainly the Brazilian had a much better reputation, Jedvaj is also held in high esteem and thus seems a fitting Walter Sabatini buy. To be fair, there isn't much to judge him on –- just as everyone's new favorite Roma center-back had only played 6 official matches for Corinthians before heading to Italy, Jedvaj has a mere 13 senior appearances for Dinamo under his belt.

Is he here to partner Marquinhos? Replace him, given the numerous rumors about his departure? Just to play for the primavera? Will he be instantly loaned out? Right now, it's impossible to say. Investing in youth is the new Roma way but how the club addresses the center-back situation now will reveal just how much it can hold onto the stars. As of right now, the aforementioned Brazilian, Leandro Castan, Nicolas Burdisso, Alessio Romagnoli are all on the Roma squad, and Mehdi Benatia is supposedly a single Nico Lopez medical away from joining. Throwing Jedvaj in the mix leaves six center-backs for two positions in Rudi Garcia's favored 4-3-3; even a switch to a three-man backline seems unlikely to leave enough space for all of these players to play with no European competitions to add to the tally.

One, if not more, of Roma's current center-backs is on his way out and none of them seem untouchable (though one absolutely should be). Burdisso may be the safest bet, given his age and decline in form in recent seasons; selling him would clear up salary space and allow for the youngsters to develop under the leadership of Castan and Benatia. Castan himself has been rumored with a move back to Brazil and Benatia has not even been officially signed yet. As for Marquinhos, latest rumors suggest he's off to PSG to replace Thiago Silva, who's supposedly off to Barcelona, but as I've argued previously, this would be entirely contrary to what Roma claims it wants to do.

The most logical thing to do would be to have Romagnoli on loan or co-ownership elsewhere in Serie A to get some playing time under his belt. Similarly, Jedvaj should adjust to Serie A in the primavera or in Serie B until he's a bit older. That would leave Roma with Benatia, Castan, Marquinhos and Burdisso for next season, with the long-term goal in mind of swapping the Argentinian for Romagnoli for the next.

Given that this mercato has yet to truly unfold, however, time will tell. And it will be very telling.