Roma - Milan: Serie A's best young centre-back vs. its best young attacker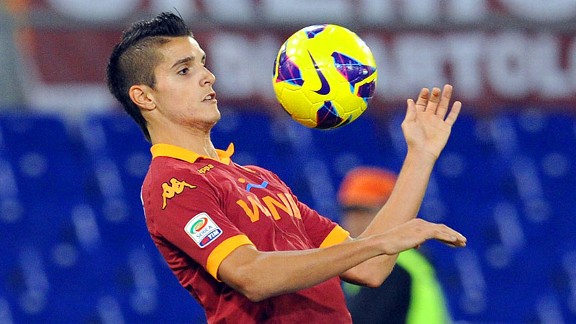 Giuseppe Bellini/Getty ImagesErik Lamela will look to outshine Milan sensation Stephan El Shaarawy when Roma take on the Rossoneri on Saturday.
This is it, then, really. Roma's last match of 2012, at home against Milan, is enormously important. It's sixth against seventh, a battle between two sides just two points off of each other, with both sides needing wins to recover from awful starts to the season (Milan) and terrible inconsistency (this is practically Roma's middle name by now), to harbor any hopes at all of finishing in the final Champions League spot.

- Zeman and Totti keep quiet over Chievo defeat

It's only December, and sure, there's still half a season to go by -- but the race for third is already incredibly tight, with five teams within six points of the final Champions League place in Serie A. Dropping points for Roma means those points go to a rival this weekend.

And Roma, of course, have dropped plenty of points already earlier this season. A solid run of four league victories in a row was interrupted by the fog and Sergio Pellissier last weekend, although the capital side dodged a bigger bullet: reports indicate that Marquinhos seems to have recovered from his injury and should be available to play tomorrow. The only players not called with were Rodrigo Taddei and Marquinho (Leandro Castan misses the game through yellow card accumulation).

That sound you hear? Romanisti worldwide collectively sighing. They know that a win tomorrow would be crucial for momentum going into the break and the second half of next season. Based on training, it even seems like Zdenek Zeman will give a rare start to Daniele De Rossi who was played in the midfield during yesterday's sessions.

Roma Projected XI: Goicoechea Balzaretti, Marquinhos, Burdisso, Piris; De Rossi, Pjanic, Bradley; Totti, Osvaldo, Lamela.

With Castan out injured, this is as close to a dream starting XI for the club as one could hope for (the Stekelenburg/Goicoechea debate will rage on). That's assuming of course Zeman actually uses this and doesn't throw on Panagiotis Tachtsidis last minute just to mess with us. And on paper, where the game is never played, this starting XI is more than a match for Milan. Who would you rather have as a trequartista, after all: Kevin Prince Boateng or Francesco Totti? Mirlem Pjanic or Riccardo Montolivo spreading passes from the midfield? Marquinhos or whatever massive downgrade on Thiago Silva that starts for Milan at centre-back these days (It's a player most Romanisti will remember)?

Unfortunately, the game is not played on paper at all. After a terrible start, Massimiliano Allegri's men have recovered well to show that they're capable of fight and winning without the aforementioned Silva or Zlatan Ibrahimovic. Their recent run of form in the league is hardly more impressive than Roma's (15th-placed Torino, 18th-placed Pescara) with the notable exception of Catania, who sit eighth, and the super notable exception of Juventus, who used to be invincible.

In short, they've recovered. Despite Silva's departure, they still have the sixth-best defense in Serie A, with Mario Yepes and Philippe Mexes (remember him?) forming a solid (?!) partnership at the back. Then again, they did concede twice against Torino.

Milan Projected XI: Abbiati; De Sciglio, Mexes, Yepes, Constant; Montolivo, Ambrosini, Nocerino; El Shaarawy, Pazzini, Boateng.

Somehow, Milan have become not only competitive in recent weeks, but younger and more Italian as well. Mattia De Sciglio is certainly a (distant) competitor to Erik Lamela and Stephan El Shaarawy as the best youngster playing this season. Kevin Constant has transformed from mediocre midfielder to mediocre/decent fullback and somehow, Giampaolo Pazzini-El Shaatawy is the highest scoring duo in the league, with 20 goals to their name combined (El Shaarawy has 14 already this season. He's on track for 28 by May. He's 20).

Grab your popcorn because this should be a good one. With both defenses improved as they may be, the two sides' offenses are truly the talking point here. Roma have scored the most goals in Serie A and Milan have the fourth most. A goal-fest? It's definitely possible, especially without Castan on the field and Nicolas Burdisso not having played as a starter in months.

Prediction: Draw, with Lamela and El Shaarawy each finding the net twice.