Cancelled Deal Would Have Been Ideal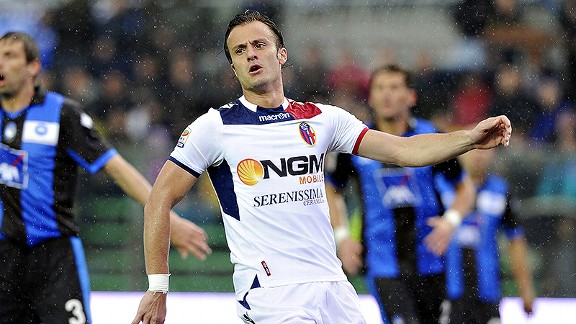 Cameron Spencer/Getty ImagesGilardino would have been perfect to fill Roma's depth up front; as such, Osvaldo and Borriello remain.
Genoa President Enrico Preziosi confirmed today that there was a deal in the works to swap Alberto Gilardino and Marco Borriello between the two sides, but that talks have since broken down and it will no longer occur. "We and Roma understood that the exchange couldn't be done," he reported to Tele Radio Stereo. Unlike the vast majority of transfer rumors, which seem to exist mostly to sell papers and get clicks during summer months without football, this one looks to have been totally genuine.

In many ways it would have been an ideal move for Roma. Marco Borriello clearly is not in the plans of the club and due to his lengthy contract and high salary, he has had trouble finding another place to call home. He's been loaned to Juventus and even sent on loan to Genoa, where he had a breakout season and scored 19 goals in 35 appearances in 2007-2008. The latter club would have been resigning one of their most successful players in recent years and would have hoped to revived him to the striker he was five years ago.

Yet his ego seems to be a major sticking point -- Borriello was infamously overheard complaining about being benched by Claudio Ranieri despite scoring "25,000 goals" -- along with the finances that would be required to match a salary of around four million euros last year, of which Roma contributed 2.6 million. At 31, his age may also be a stumbling block as many clubs in Serie A are turning to youth and rebuilding.

Roma however could have used a player like Alberto Gilardino – a player with a vast amount of experience, a World Cup and Champions' League winner. Also aged 31 but with much less of an ego, Gilardino could have been the perfect player to have on the bench behind Mattia Destro, should Pablo Osvaldo leave as is widely expected. He's currently making a fraction of what Borriello earns -- a mere 1.2 million Euros a year -- and thus would have saved Roma quite a bit of money.

Interestingly enough, the deal seems to have broken down over the issue of money. Instead of being a straight swap, both clubs desired more from the other, as Preziosi revealed: "We wanted an economic balance in our favor, Roma wanted to do the same in their favor. For us there wouldn't have been the right conditions to sign."

If coach Rudi Garcia wants to start Destro consistently and have another player on the bench who can play striker when needed, it would make perfect sense for a player like Gilardino to be that alternative -- while also being sure to ship out the higher-earning Osvaldo and Borriello to other clubs. With both men proving to be more of a headache than a success (Osvaldo for his attitude and red cards; Borriello purely because it's entirely obvious that Roma have not wanted him for years) it's largely expected that the rest of the summer dealings will include new homes for at least one, if not both, of those strikers.