Why Roma can't afford to sell their stars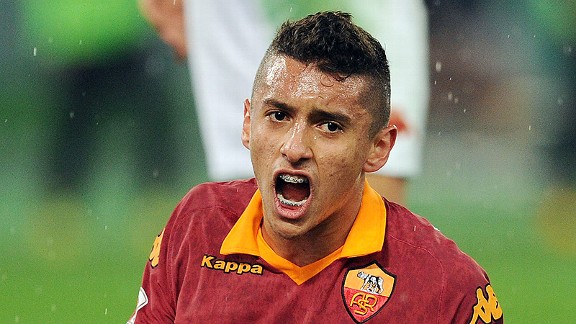 Giuseppe Bellini/Getty ImagesSelling Marquinhos could bring in 40 million euros to Roma.
A quick hypothetical: at club RandomClub (I'm incredibly creative), a young striker acquired the summer previously on the cheap has a breakout season. As the following summer dawns, the board of directors finds itself in a delicate position. With no European qualification and offers sure to arrive, should the striker stay or go?

Of course, that's an impossible to question to answer, staged so vaguely: it depends on the individual club and circumstance. It might be safe to assume that a trophy-winning club could do whatever they wanted: keep the player or sell if an offer came in at a high enough value, despite the lack of Europe which could be written off as a blimp. Smaller clubs really don't have much hope: if an offer comes in for a good price, they'll almost always sell. That exact situation has been seen after the rises of Alexis Sanchez, Javi Martinez, and even Roma's own Davide Petrucci. In each player's instance, the circumstances varied wildly, but there were a few constants: a bigger, more prestigious club came knocking, offered a decent/exorbitant sum of money to the club, and the chance to compete for trophies and to become part of a club with history to a player. The smaller club is very often left with no chance.

These generalizations don't always hold true but they illustrate an important point about modern day football: there's an enormous gap in the amount of clout, not to mention money, between the elite clubs and everyone else. Roma find themselves in a very delicate position, in case the opening metaphor has not quite hit home yet, with Brazilian Marquinhos. After an amazing breakout year, and numerous rumors that he's destined to leave, should the club cash in on the young prospect?

No.

I'm not going to argue both sides of the issue, although there are absolutely valid reasons to sell (which I'll shortly address in a second). Instead, it comes back to one essential theorem of this Roma project: the Americans took over the club desiring to make it one of Europe's greatest. And to put it simply, great clubs don't sell their best players when they need them most. For Roma to make the jump from "good" to "great", a player like Marquinhos can't just be a source of income.

Where would Barcelona be without Lionel Messi? Did Bayern win the treble by sending off Franck Ribery and Manuel Neuer? Juventus followed up a Scudetto by adding to the squad, not detracting from it. Building a winning team involves identifying players that will be part of the spine around which to grow -- and in many circumstances that involves not selling (at least not so quickly).

Selling inevitably does happen and it's important this is addressed. All of the aforementioned clubs have sold players -- big players. Barcelona have discarded Samuel Eto'o, Real Madrid decided that Wesley Sneijder and Arjen Robben didn't fit into their plans, and Inter have all but disassembled most of the core that won the treble. Again, I cannot stress enough that I recognize the differences each of these clubs had, but it's the similarity I want to focus on: the former two sides had the money and reputation to bring in viable alternatives to keep them winning. Inter, slashing spending in the face of Financial Fair Play, didn't, and have floundered partially as a result of this.

Selling Marquinhos could potentially bring in a windfall of forty million euros -- and that's no small sum for a club like Roma (not that it's a small sum for any club, really). But what's the point? Money is supposed to be used to build a squad as a means to an end. Teams that see money as the end itself are like Udinese: fabulously run businesses, questionably run football teams.

Roma do not necessarily have to worry about finances from sales; with new owners and a new stadium in the works, it is only a matter of time before a major revenue source is built and sustaining. Furthermore, qualification into the Champions League alone is worth about twenty million euros -- half of a Marquinhos sale would come if he stayed and helped guide the team to the top three next season.

A major fear is that selling could become a habit. Sure, Marquinhos' money could plug holes that the rest of the team has -- and there are certainly quite a few holes -- but at what expense? The best centre-back Roma have had in years? A phenomenon the club hasn't seen in such a young age in quite some time? Forty million would first and foremost have to find a player that could fill Marquinhos's boots, literally speaking -- and without the clout of a big club, Roma would once again have to gamble on an unknown name. And why? So that he could be sold after his breakout season? A cycle emerges.

The best way for this project to be legitimate would be to send a message to the rest of the world: "Your money doesn't matter here. Building something does."