Julio Cesar would be the right move for Roma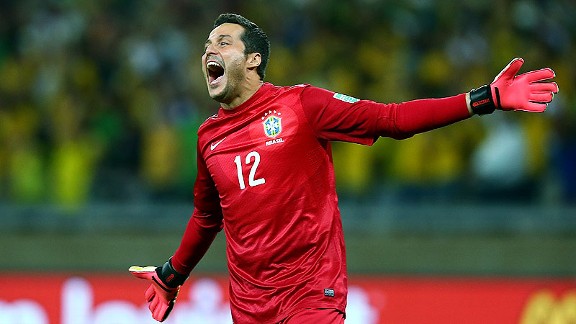 Ronald Martinez/Getty ImagesBrazilian goalkeeper and rumored Roma target Julio Cesar was at his best in Wednesday's Confederations Cup semifinal when he stopped Diego Forlan's penalty.
For weeks, if not months, rumors have been bubbling that the man to replace the departing Maarten Stekelenburg at the back for Roma would be Brazilian goalkeeper Julio Cesar. The current Queens Park Rangers man is almost certain to leave his English side this summer, despite a lengthy contract, after experiencing relegation -- a situation that can hardly be blamed on the 33-year-old. In fact, only one goalie in the Premier League made more saves per game than JC did last season. Luiz Felipe Scolari's faith in the keeper has not dwindled either, resulting in his continued position as starting goalkeeper for Brazil, where he turned in a man-of-the-match performance against Uruguay on Wednesday.

The rumored deal would be a very interesting one. The desire is there from his end, with the player commenting: "I've read in an Italian newspaper that Roma would be interested in me. This makes me happy because, following my turbulent departure from Inter, QPR were the only club that demonstrated interest in me. I don't want to close the door to calcio that welcomed me eight years ago and where I spent the best years of my career."

A good ol' fashioned 'Come and get me'.

Is this a deal worth pursuing? It's impossible to argue that Julio Cesar is currently in the best form of his career. His final season at Inter saw some high-profile mistakes that lead Massimo Moratti to bring in Samir Handanovic instead, and few if any would argue that the latter wasn't a massive upgrade for the Milan side. His age is certainly another factor to take into consideration. Signing someone who will be 34 in November is contrary to how most of the mercato flows under Walter Sabatini. Finally, how confident will he be following a season of relegation in a team with players who all underperformed to one extent or another?

And yet, this could end up being a tidy deal that immediately gives Roma security at the back. Julio Cesar continues to do well for Brazil; whether this is a Daniele De Rossi issue where he plays better for country than club or an indication that QPR is merely the wrong environment for him, it's tough to say. Nevertheless, he's certainly far from past it, and 33 is an elderly age for a goalkeeper but by no means too old. In fact, Gianluigi Buffon is two years older, just for comparison's sake, as is Roma's own Bogdan Lobont, who was the side's best keeper out of the three used last season. Stekelenburg turned 28 the year Roma signed him as well; though Sabatini certainly prefers younger players, goalkeepers are an exception where experience is almost always preferable.

It's that experience which could see Julio Cesar be successful at Roma. Many of the misfirings of Stekelenburg would be remedied by the Brazilian. Acclimated to the league? Check. Can speak to his backline? Check. Known as a shot-stopper and penalty-saver? Check. He's clearly a winner -- five Scudetti, a Copa America, two Serie A Goalkeeper of the Year awards, a Champions League, etc. -- and having someone with a winning mentality in a vital position for the side could do wonders for confidence and gaining points.

As argued previously, signing the proper goalie could be the easiest way for Roma to improve in point tally season-over-season. Though there are certainly many issues that must be addressed in the squad, it's blaringly evident that the side has not had a goalkeeper who can turn losses into draws or draws into wins in quite some time.

The biggest issue with any move might just be the money involved. The transfer fee could be low given QPR's relegation but his wages would be an issue, as he currently earns 90,000 pounds a week. It's certainly possible however to see his stated desire to return to Italy leading him to take a pay-cut to fit more in line with Roma's structure.

He's good; he's the starting goalkeeper for Brazil; he's a winner and he wants to go back to Italy. For the right price, Julio Cesar is certainly a gamble worth taking for Roma this summer.