Five things Roma must do this summer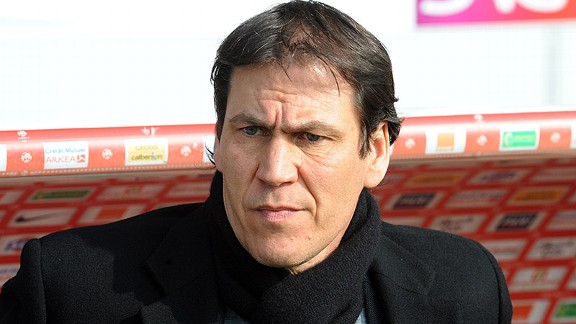 RED TANNEAU/AFP/Getty ImagesNew Roma manager Rudi Garcia must quickly get to work on addressing some major needs prior to the start of the Serie A season.
It's summer (between the solstice and massive sunburn on my shoulders as I type this, I'm certain of it), which means that Roma isn't going to be doing much of anything except friendlies and mercato dealings. The latter has already occurred with the sending-offs of Maarten Stekelenburg and Panagiotis Tachtisidis, but much, much more is left to be done. There are five key areas that Roma must work on to have a successful season under Rudi Garcia and Walter Sabatini.

Find a proper goalie. Contrary to popular belief, not any goalie will work well on just any team -- just compare Edwin van der Sar's time with Juventus to Manchester United. A keeper needs to mesh properly with the defense, be acclimated to his league and know what's to be expected of him (his role in a team that dominates possession will be different than in a relegation candidate that leaks shots). For Roma, all of these areas need to be considered carefully; as good of a reputation as Stekelenburg had, he clearly did not acclimate well to Serie A. He couldn't communicate with his backline and failed to be what the side needed most: a great shot-stopper. This is the one area of the team where a good fit could easily see the side gain a healthy amount of points over last season.

Regista, regista, regista. This has been Roma's Achilles' heel in the midfield in recent years (ever since David Pizzaro was oddly deemed surplus to requirements). Francesco Totti and Erik Lamela can provide the guile further forward but the side desperately needs an anchor in the midfield to provide creative sparks and passes. Zdenek Zeman tried Tachtsidis in the role to poor effect; Garcia will need a player that's older and much more acclimated to pressure. Miralem Pjanic was used in a semi-regista role under Luis Enrique, but the Bosnian's best position is somewhat enigmatic and Zeman stated repeatedly that he did not have the tools to properly play as a deep lying playmaker. Garcia has favored a 4-3-3 in the past; for that to be successful, a proper regista is absolutely needed.

Formation to suit the players. Perhaps Zeman's biggest issue was his inability to shift away from a 4-3-3 that clearly did not fit the players at his disposal. Garcia simply must show more tactical flexibility to prevent the same kind of demise; a 4-3-3 may be much more successful for the former Lille coach if the above two mercato dealings are completed, but in case of injury and depending on the opposition, Roma may need to switch formations.

Solve squad issues. The capital side has a seemingly contradictory problem: the squad is simultaneously too large and not big enough. Take for example the midfield. Alessandro Florenzi and Michael Bradley both shone brightly when not completely exhausted/used properly. Daniele De Rossi is the club's vice-captain, excels for Italy, but was a disappointment last season. The aforementioned Pjanic has yet to nail down a starting position in the squad, being neither a true playmaker nor a trequartista. Add in a regista that must come in soon and suddenly the squad has five players, all of whom could argue that they deserve to start. Garcia's issue here is twofold: find the best starting eleven and rotate effectively, without shoe-horning any of the players into positions that don't fit them.

Mentality. This is, by far, the biggest issue Garcia faces. The club need a manager who can remove fear and underachievement, get the players playing to their best potentials, and earn points consistently. The Roma tifosi will demand nothing less than both style and substance, further complicating the position the new manager finds himself in. For him to succeed, he must do what Luis Enrique, Zeman, and Aurelio Andreazzoli failed to do before him: mesh beautiful football with results.