Rudi Garcia's first press conference and examining his past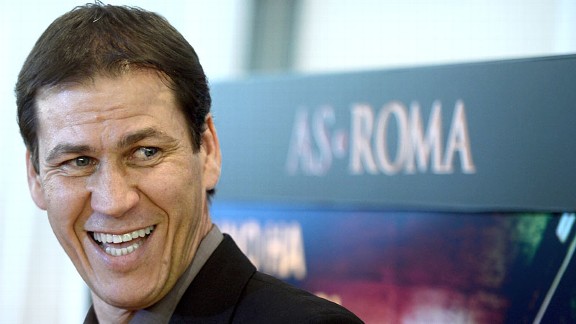 Filippo Monteforte/Getty ImagesNew Roma manager Rudi Garcia was all smiles at his first press conference.
The first press conference featuring Rudi Garcia has just ended. In truth, it didn't reveal a whole lot; it's not usually a great strategy to reveal a team's transfer targets to the press, for starters, and given that Garcia has just arrived at Roma, there's only so much he could realistically say. It was however immensely successful in giving him a glimpse into how to deal with the Italian press, who are often repetitive and intentionally provoking. For example, besides being asked if Pablo Osvaldo and Daniele De Rossi will be sold, here are just some of the questions he faced:

"Doesn't it seem like you've arrived in a league that's in decline, while France seems to be the new El Dorado?"

He was asked twice to comment on not being Roma's first choice. Twice. His second answer began "I feel like I've answered this already..."

He began the press conference by stating that he wasn't afraid of anything. So naturally, a few minutes later: "Roma in the last two years finished sixth and seventh, lost the Coppa Italia final, and thus the fans are very angry. Will a poor start lead to fear of the fans?"

In other words, welcome to Roma.

Garcia's answers don't reveal much but they do reveal his mind is in the right place for dealing with these kinds of questions. How come results didn't arrive when so much money was spent? "The past isn't important to me. What is important is winning. Now."

Did the management request immediate results? "Roma is a club that must win. The important thing is to recognize a need for time."

It's been said that you need to give Roma a soul. "Roma already has a soul. The important thing is that the squad obtains something; that it plays well for the players and for the fans. To win something."

To understand what Rudi Garcia might do at Roma, it's tantamount to understand how he's coached his clubs in the past. For this Andrew Gibney, editor of French Football Weekly, has provided an in-depth analysis of the manager's time in France.

"Rudi Garcia is a coach who is still learning his trade, but with every step he has taken up the ladder he not only studied the game and learnt his trade but he has also taken each team forward. There is no doubt AS Roma will be his toughest test yet.

He was successful in taking Dijon to the second division, earning a move to Le Mans. He guided them to a ninth place finish in Ligue 1 and a cup semi-final, not bad for a team that have now been relegated down to the third division -- showing the influence Garcia had on the side. The move to Lille gave Garcia to show what he could do on a larger scale. Taking over from the strict and tactical style of Claude Puel, Garcia quickly transformed Les Dogues from a defensive counter-attacking side into a free-flowing forward thinking side that dominated the scoring charts in France during his reign."

Taking over clubs, making them more successful, and playing good football is thus something that Garcia isn't merely just talking about.

His Lille side played a 4-3-3 that emphasized these ideals, and an "attacking, short passing, interchanging philosophy" allowed the club to beat pre-season expectations of a top three finish in 2011 to win the league title. The midfield offered a fantastic balance of grit and creativity: "Built on the trio of Rio Mavuba (the sitter), Florent Balmont (the workhorse), and Yohan Cabaye (the creative force) the balance was superb and they provided the perfect combination to support Eden Hazard, Gervinho and Moussa Sow upfront."

Assuming Garcia sticks with the same mentality this time around, it seems logical to predict that Daniele De Rossi, Michael Bradley and Miralem Pjanic might play in the same respective roles -- assuming the coach can get the former duo to be at their best when together, that is.

Nevertheless, Garcia has had experience dealing with player turnover, "adapting his formation to suit the players left and bring in replacements while cutting costs." It's this same formation that remains perhaps the biggest concern for Roma. "Garcia doesn't seem to have a Plan B at times. So often Lille looked void of ideas in the last two years, but Garcia seemed unable to change his tactics to fit the opponent. Rarely do his subs change the game in a huge way, you are more likely to see like-for-like changes, then a change in formation or tactics."

Of course, there's many other circumstances that could tie into this: does he have players adaptable to a different formation? Will he be so rigid to a 4-3-3 if Roma's players are better suited to an alternate way of lining up? Will his bench be better at Roma than it was at Lille, to make game-changing substitutions more viable? And if so, will he actually change what worked for him in the past?

The most important question: Will Garcia be able to break the shackles of his own past to prevent Roma from suffering the same fate? "There is no doubt that Garcia will play an attacking style when he gets his hands on the Roma squad for the new season. When it works it is beautiful to watch and Roma fans will be dazzled with the passing and movement. The problem will come when teams learn his style and find a way to break it down. This is where you hope Garcia has developed his game during his five years at Lille."

Hope, indeed.