Introducing Rudi Garcia: The third time looks a little different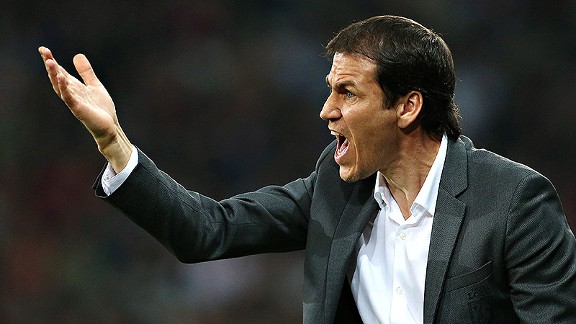 John Berry/Getty ImagesRudi Garcia's arrival from Lille marks the third straight foreign managerial hire for Roma.
AS Roma confirmed today what nearly everyone who follows calcio news already knew: Rudi Garcia will become the side's manager for next season. The club noted that Garcia has not yet signed a contract but they are clearly confident that he will shortly, going so far as to describe the length of it as a two year deal.

- Roma confirm Garcia as new boss

More concrete information will become available once the signature has dried on the paper; rumors that there is an option for a third year or that his salary is 1.5 million euros seem possible but cannot be confirmed yet. More telling is just what this signing means for James Pallotta and Walter Sabatini, as it signals a clear break with the coaches appointed since Thomas Di Benedetto's consortium took over the club from the Sensi family.

First came Luis Enrique: a young, vibrant, exciting Spaniard, ushered in when Barcelona were just peaking in their empire of European domination, signaling an era of possession-based football for the club that just didn't quite work out in Italy. Enrique left of his own accord, tired from his first year as a coach in a top-flight league, presumably worn-out from the constant criticism -- seriously inflated from the press -- that trying to play like the world's best Spanish team in a country where possession matters less, directness matters more, defenses are tighter, and the players are worse, was an exercise in nothingness.

In came another idealist: Zdenek Zeman. He, too, promised a utopia of attacking football, albeit with a slight nuance; foreign by birth like Luis Enrique, he was Roman by history and familiar with Italy at the very least. There's no need to harp on the failure of Zeman or the second year of the Roma project in general, given how it occurred just this past season, but the parallels between Zeman and Enrique are clear. Roma hired coaches with ideas and promises, not trophy cabinets and experience.

Garcia is thus quite an adjustment. In playing style, he's perhaps more similar to his predecessors than he is different as he is attack-minded and favors a 4-3-3 or 4-2-3-1. However, at the age of 49, he already has massive experience coaching in the top flight in France. He coached both Dijon and Lille for five years each, leading the latter to their first title since 1953-54 and a domestic cup. Awarded Manager of the Year in 2011, Garcia is clearly a much more proven and tested candidate than Roma have hired in recent years.

Question marks certainly still remain. Is it too much of a gamble to hire a coach from outside of Italy for the third year in a row? Can his success with Lille be replicated at a club synonymous with turmoil, where fans are quick to turn their backs? Is he too rigid with his own formations and substitutions? Does he have a plan B?

The fact remains: any coach hired is a gamble. There's simply no guarantee for success, and only time will tell if Garcia proves to be the right fit for the club. Roma have found a man, despite not being the club's reported first choice, which represents a shift in the club's policy. Hopefully it will mark a shift in the club's position, as well.