Final season-in-review post: Category Awards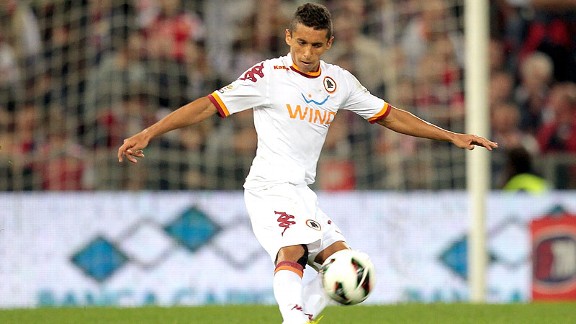 Gabriele Maltinti/Getty ImagesMarquinhos has displayed incredible talent on the field this season for Roma and remarkable maturity away from the pitch.
It's time. We've looked back on the season, fondly and not so fondly, under both Zdenek Zeman and Aurelio Andreazzoli*. We've seen the false hopes, wonderful wins, serious setbacks, and ultimately, a season of disappointment.

Out of the darkness emerges the light. Today the focus is upon the best parts of the season. For the final season-in-review post on this Roma blog, before the page is finally turned upon the 2012-13, it's awards day.

You Were Born For This: Mattia Destro, meet the Coppa Italia. Coppa, get familiar with Mattia: if his return in future seasons is anything like his tally from last, Roma could have a serious tournament player in its ranks. The 22-year-old Italian had six goals in 21 league matches this season and five in five Coppa games. Roma played Atalanta, Fiorentina, Inter twice, and Lazio en route to the final last year. Destro scored against Atalanta, Fiorentina, and Inter thrice. To put it another way, Miralem Pjanic, Pablo Osvaldo, Alessandro Florenzi, and Vasilis Torosidis were the only other Romanisti to net in the Coppa. None scored more than once.

Lost Adrift: Miralem Pjanic and Daniele De Rossi were standout midfield performers under Luis Enrique. Both were marginalized under Zeman then played some before seeing massive playing time under Andreazzoli. But for one reason or another, neither has been quite as good as he was the year previous. De Rossi's decline, which was much worse, has left many wonder just what the future holds for capitano future. Perhaps the reason remains mental, or in the side's formation or style of play, but Daniele has not looked like the combative midfielder who shields defense nearly immaculately. Similarly, Pjanic has not been necessarily a poor player, but a combination of having to further adjust his game while losing much playing time under Zeman has left last season somewhat of a disappointment for the Bosnian.

Player Of The Year:

3. Francesco Totti He almost certainly deserves to be number one; everything you know about Totti has been proven simultaneously right and wrong. He's still one of the most decisive players in the peninsula, certainly one of the most creative, and somehow one of the most flexible. At 36 he continues to laugh in the face of minor forces to which all men succumb such as time and physics; his 12 goals and 12 assists in Serie A make him one of the few players in the world to hit double digits in both categories. If the rest of the squad had a fourth of his ability and half his adaptability, Roma would have won the Scudetto. A legend.

2. Erik Lamela As discussed in depth before, this is the year Lamela exploded, turning his raw talent into a force that can score goals. And a lot of them, at that. He still has much to improve, which is the most exciting thing about him: if this is the year Serie A saw what Lamela could be at the age of 21, what will he be like should he continue to adapt and grow in a few short years?

1. Marquinhos The player of the year goes to the youngster who somehow solved a dilemma in the heart of this Roma side. To illustrate this, merely think back to the position Roma were in at the end of 2011-12: Juan had declined, Philippe Mexes had left, Simon Kjaer was a disaster, Gabriel Heinze slow and old. The side needed a pairing at the back, and most expectations were upon Nicolas Burdisso and Leandro Castan. A 19-year-old Brazilian who had only ever played six games in the top flight in Brazil was thrust into the spotlight after injury and never once looked back. He's been linked to Barcelona and Chelsea for good reason: he's a natural. One would expect many to give young defender of the year plaudits to Real Madrid's Raphael Varane but the best centerback of the next decade might just be where you'd least expect it: preventing a terrible Roma defense from being any worse.

Honorable Mention: Alessandro Florenzi. Don't feel too bad for him: he'll probably be around Roma for the next ten years or so, anyway.

Game of the Season: The 4-2 win over Milan was fun, but marred by the red card at the end that allowed Milan to score twice. The runnerup here would be the 1-0 victory over Juventus; were Roma to go on from that to end in a higher position, it would almost certainly be the turning point of the season. Instead, the 4-2 victory over Fiorentina stands out for a number of reasons: beating Vincenzo Montella's side, which is practically a Roma-lite; watching Totti score a fantastic brace; the (ultimately fruitless) feeling that perhaps Zeman's side would work out, after all. It was false and it was fleeting, but it was fun.

Biggest Room for Improvement: Goalkeeping. Maarten Stekelenburg never worked out and Mauro Goicoechea looked like he was nearly always a few seconds from a disaster. Bogdan Lobont filled in admirably at the end of the season, but relying on a 35-year-old third-choice goalkeeper seems like it flies in the face of nearly everything about Roma's project. With a goalkeeper properly acclimated to Serie A, who can actually speak to his defenders and make decent saves every once in a while, Roma's league position next year should only improve.

Goal of the Season: The enduring image of this season should be none other than Francesco Totti, latching onto the end of a cleared ball against Juventus, launching an unstoppable strike into the top left corner of the net from outside the box.

*Every time I write the man's name, I so badly wish his first name was Andrea.