Season In Review, Part 2: The False Dawn of Andreazzoli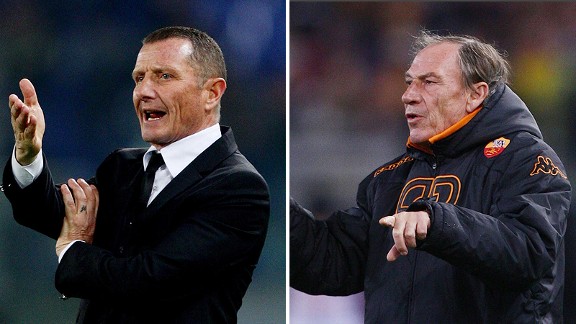 Getty ImagesAurelio Andreazzoli took over from the sacked Zdenek Zeman
After Zdenek Zeman's departure (covered here) Roma turned to a man, opposite in nearly every way imaginable, to coach the side. The former was a radical foreigner, dogmatically loyal to certain rules and styles that alienated some players, delivered entertaining football, and failed to bring results. Initially, Aurelio Andreazzoli instead seemed pragmatic above all else, able to deliver points at the cost of attacking as recklessly, and a player motivator who seeked to include all. By the end of the season, this distinction proved too simple, too clear-cut, as Andreazzoli's own inadequacies left him far from an acceptable candidate to take over the helm long-term.
At the time, however, a switch to normalcy seemed to be just the tonic.
Well, not right off the bat. Andreazzoli's first match in charge, in early February, ended quite similarly to Zeman's last: Roma followed up a 4-2 defeat at home to Cagliari with a 3-1 loss away at Sampdoria. The scoreline fails to reveal anything about how Andreazzoli was already at work; A quick glance at the lineups and formation is far more telling. Before Zeman was sacked, Roma lined up in a 4-3-3 against Cagliari, with Mauro Goicoechea as the starting goalkeeper and with Panagiotis Tachtsidis in the midfield. Against Sampdoria, Andreazzoli featured a 3-5-2, with Daniele De Rossi and Maarten Stekelenburg back in the side (and not just because of Goicoechea's suspension).
If anything, Andreazzoli may have gotten away with the loss because of the controversy surrounding it. With Roma down a goal in the 71st minute, Pablo Osvaldo earned a penalty, and broke the ranking within the squad to take it instead of the designated Francesco Totti. He missed, the side lost, and a scapegoat was formed. Osvaldo certainly does share some of the blame for the defeat, but cracks were already showing under Andreazzoli in this very first match: no hierarchy on the pitch that allowed the situation to occur in the first place and Miralem Pjanic and Erik Lamela playing out of position.
Results however are a fantastic way to buy time. Over the coming weeks, it had become clear that Roma were not quite as exciting and attacking as under Zeman. Many wondered if Andreazzoli was little more than the second coming of Claudio Ranieri or if the side were merely in an extended honeymoon period. Three successive wins over Juventus, Atalanta, and Genoa saw the side dreaming of Europe once again, however, and early March was simply not the time to question a caretaker who was doing exactly what was asked of him: get results.
That time was actually at the end of March. A draw away at Udinese earlier in the month was by no means a bad result, but the defensive 3-5-2 that featured De Rossi, Simone Perrotta, and Alessandro Florenzi in the midfield signified that perhaps Roma did not travel away with the intent to win (which is a big, big no-no). Yet, that was not quite what proved that Andreazzoli was not the man for the job. The loss to Palermo lead many to that belief instead, given that the only proper coach for this side was one who could fix a long-standing woe: winning away at sides that should easily be beaten. A 1-1 draw at home against Pescara, during which the away side scored first(!), all but put ruled him out of the position after the summer, and the loss away at Chievo put that beyond a doubt.
That's not to say Andreazzoli did not have any good ideas or that he was a bad coach. In fact, he may prove to be a fantastic coach away from the capital, not dissimilarly so to Vincenzo Montella. A focus on pragmatism was welcome after Zeman's utopian turned dystopian but there's simply no point in hiring a coach for Roma who cannot do what the side already can. This team has been able to beat upper table teams rather easily for years, but struggles continuously against relegation candidates, which almost always prove to be fatal by the end of the season. Roma's next coach simply must be a man who can motivate the side to win when they're expected to, and not just when they're underdogs.
Of course, Roma did have the slimmest of hopes of entering the Europa League via the Coppa Italia final, but lost to Lazio by a single goal, which is perhaps better in the long run. Entry into Europe may have deceived and caused more harm than good if it somehow led to the false appearance that this club were consistent or good enough to warrant it; a lack of Europe, on the other hand, leaves a clear signal to Pallotta in the summer. There's yet much work to be done.