Season in review: The attacking explosion of Erik Lamela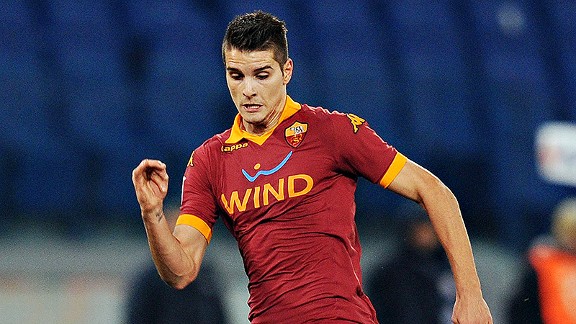 Giuseppe Bellini/Getty ImagesIn his second season at Roma, young Argentine striker Erik Lamela amassed 15 goals.
Despite how his reign ended, not everything went poorly for Roma under Zdenek Zeman. The once and former Roma coach has a reputation for ripening young attacking players, as evidenced by his first stint at the capital club where Francesco Totti's true forward play was unleashed, continuing to his penultimate role as coach of Pescara, guiding Ciro Immobile to 28 goals and Lorenzo Insigne to 18 in 42 Serie B matches. At the helm of James Pallotta's side, his success in terms of league position was a far cry from the league title he achieved with Pescara, but he continued the trend of promoting youth and turning potential into talent.

The rise was most evident with Erik Lamela. Signed from River Plate in the summer of 2011 for 14 million Euros, he started 31 matches for Luis Enrique's men in all competitions, showing the occasional indication that he was a special player but only finding the net a mere four times in the league (and twice more in the Coppa Italia). His opener against Palermo in particular demonstrated the finishing ability he possessed, but overall his first season did not quite beget the goals many expected.

Yet, such settling-in was both acceptable and inevitable: merely 19 years old at the beginning of the season, Lamela was making a massive transition both in terms of his personal life and in having to adjust to Serie A. He finished fifth overall in the Roma goalscoring charts, behind Pablo Osvaldo, Fabio Borini, Totti and even Bojan Krkic.

Zeman changed that, encouraging the attacker to stray forward and enhancing his prowess in a system designed for all-out attacking. It took some time this season to adjust as well; after the opening six rounds, Lamela registered a single goal, in week three's loss against Bologna. In the following six games however, he notched seven, an astonishing run that saw him score in every single match from the 2-0 over Atalanta on October 7th until another 2-0 over Torino on November 19th. He wouldn't score again in Serie A until the 4-2 over Milan in December, where his brace secured the victory, but the rest of the side chipped in the goals to see Roma pick up three wins out of four in that stretch, losing only to Chievo.

After the winter break, when Zeman's side began their decline that ultimately led to his sacking, Roma went six games without a win in the league. Lamela was comfortably marked out of the first match in this spell against Napoli by Juan Zuniga and would not score again until the final of the six, an ultimately fruitless goal in a 3-1 loss to Sampdoria. Zeman had been sacked the match before and questions began to arise: what happened to the young attacker that had set the league alight in the first half of the season?

It's a testament to the mental fortitude of Lamela that despite this drought, he was able to finish the season with fifteen goals in the league. Perhaps requiring another adjustment period as teams began to mark him much more carefully, the young Argentinian scored just that one goal after the winter break until March, finally registering again away at Udinese. He registered the opener against Parma on the following matchday, went quiet for two matches against Palermo and Lazio which saw Roma gather a mere one point from six, and scored the winner against Torino in mid-April. During the final six matches of the season, Lamela scored once more, the second in the team's 4-0 dismantling of Siena.

If Zeman's primary job as manager of Roma was to cultivate youth, the explosion of Lamela stands tribute to his ability and effectiveness. After Aurelio Andreazzoli's appointment, the goals dried up somewhat for Lamela, but whether that was an issue of a new type of football that was less attacking, due to teams marking him more closely, being used in various positions (more centrally more often, due to a switch away from Zeman's wide 4-3-3), or a combination of these issues remains a debatable point.

Next season will be a true test of how far Lamela has progressed. He has seemingly all of the tools needed to become a consistently great attacker for Roma for years to come, but will need to prove it with a strong second season tally and evidence of growth to not be dismissed by critics as a one-season wonder, propped up by the frame of Zeman and crumbled after his firing.

Should his progress from season two to season three at Roma be anything like the growth seen between his first and second seasons at the side, the prospect of Lamela roaming down the pitch will continue to be massively exciting.