It was terrible. And kinda good. Mostly terrible, though.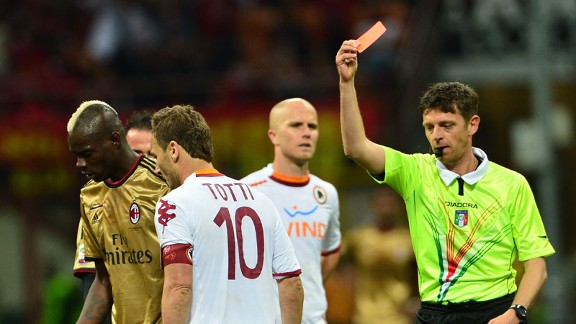 GettyImagesFrancesco Totti receives a red card during the 0-0 draw with Milan
Looking back on Roma's away performance at Milan will require some cognitive dissonance. It was terrible in so many, many ways; it was in all possibility the worst game of the Serie A season, a seemingly hyperbolic suggestion that I'll clarify in a bit. However, amidst the awfulness that imbued many aspects of what was supposed to be a football match, there were a few, very dim, maybe-reaching-for-straws-in-the-night talking points.

It was terrible but it was good.

The game was so bad that the "badness" is easy to quantify. Roma have the second best offense in Serie A, featuring Pablo Osvaldo, Erik Lamela, and Francesco Totti, who have scored 16, 15, and 12 goals respectively; Milan have the fifth, with the mercurial Mario Balotelli, explosive since transferring from Manchester City, and early season hero Stephan El Shaarawy leading their line. Today, neither side scored.

What they did a lot of was foul each other: 17 from Milan, drawing four yellows and a red in the process, and 14 from the visitors, who were booked three times and saw an expulsion as well. The two sendings-off sum up the match pretty well: Sulley Muntari looked to have said something warranting a red and then physically held referee Gianluca Rocchi to prevent him from drawing it (which he of course did anyway). Francesco Totti, meanwhile, sent an elbow towards his ex-teammate Phillippe Mexes to ensure that his fantastic Serie A season ends in the most ignominious way possible.

Milan however were without Muntari for nearly all of the second half, when good ol' Old Roma showed up and predictably became stifled against ten men. Since sending four past Siena in late April, Roma have scored a single goal in three matches and that lone strike was Osvaldo's late header against Fiorentina. Since then, the side have drawn blanks against Chievo and again yesterday to grab just one point where six could have been.

The final word on the bad and the ugly must go to the Roma fans who traveled to Milan for the match. They continued to shout racist chants towards Balotelli, causing the match to be suspended at one point, and threatening to have it canned all-together. Once reprimanded by nearly every player on the pitch, the chants appear to have shifted towards general vulgarities against Milan in general, with continued racism mixed throughout. Needless to say, it's quite simply unacceptable for such behavior to be present at a football match in the year 2013, and one would certainly hope and expect Roma to take action, with or without a fine or reprimanding from the league itself.

You know, "unacceptable" might be the best way to sum up affairs: racism, poor football, fouls and play-acting, diving and deceit. Not many matches would have fans of both teams so happy to see it over.

Lest one strays too far into bias, however, it is important to note that out of the poor, some good emerged. For example, for all of the poor plays and petulant fouls on display, the away side had twice the amount of shots on target as the home side did (eight versus four) and only two fewer shots wide (seven opposed to nine), according to Soccerway. A makeshift Roma side, missing its vice-captain and with Miralem Pjanic and Mattia Destro on the bench were able to keep pace with a Milan side missing Riccardo Montolivo; it certainly was not pretty, but four points over the course of a season against Milan is certainly a more than decent result. In fact, a tie at the San Siro would be, under normal circumstances, be perfectly acceptable; the real issue is that the loss at Chievo forced this much tougher match on paper into a must-win, which failed to materialize.

As you'd expect.

Other (terrible) things:

Not that Roma deserved it, really, but there was a foul on Erik Lamela in the box which should have been a penalty and wasn't called. I believe these things aren't much worth discussing as they even out over the course of the season; some might call it karma for Daniele De Rossi's uncalled handball against Fiorentina. Some.

Milan's kit. If anyone hasn't seen it yet, do yourself a favor and don't.

Andreazzoli probably won't become Roma's manager now and he's not demonstrated that he fully deserves it; his points-per-game ratio still isn't terrible but he's not addressed any of the fundamental issues that continue to live deep within this squad: playing down to the level of the opponent, failing to kill off games when necessary, keeping players from disappearing, getting the best out of the squad, etc. He's not a bad coach at all but he's also not the coach Roma need.

Nevertheless, a few players did stand out (usurprisingly, none of them play offense). Balotelli and Mattia De Sceglio proved to be a handful for the midfield to contain, but Marquinhos put in a fantastic shift as a right-back to stifle one of the youngest and most dangerous duos in Italy. Similarly, Leandro Castan put nary a foot wrong at the back to ensure a clean sheet.

The true hero was none other than the American as Michael Bradley had perhaps his finest Roma performance yet. In both appearance and style he resembled Daniele De Rossi at his best under Luis Enrique as he found himself everywhere on the pitch, breaking down Milan attacks and helping the defense as necessary. It' unfortunately perhaps no coincidence that such a performances came in a match where De Rossi himself was not available, further suggesting the two are perhaps too similar to be compatible.

With only one match left, any hopes of a Europa League spot are now pinned on winning the Coppa Italia. Ironically, Roma may end the season playing against the coach most rumored to take over the bench for the next; Walter Mazzarri' Napoli will finish second no matter how the result goes next weekend and have overtaken Aurelio Andreazzoli'sside as the most potent offense in Serie A.

Udinese are now four points ahead in fifth place and thus Roma will similarly be playing merely for pride. The club certainly owe the tifosi much better showing, which they will have to undertake without il capitano; similarly, the fans who were abhorrent and disgusting today must demonstrate that they, too, are capable of so much more.