The first of three league finals: Chievo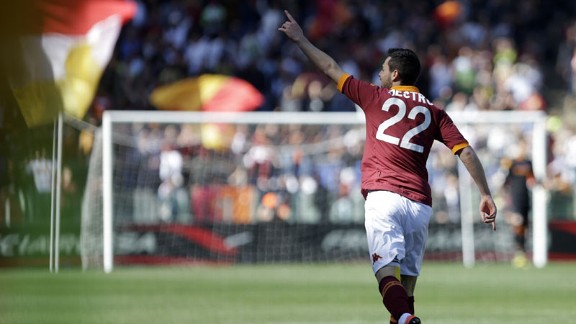 GettyImagesMattia Destro seems to be the perfect choice for a game against opposition like Chievo
Just about 72 hours after the victory over Fiorentina in Florence, Roma take on Chievo at home. Somehow there are less than two weeks and only three games left in the Serie A season. This encounter will also be the penultimate clash of the season at home. And, hopefully, it will be nothing like the last time these two sides met.

Roma's remaining three games in the league can be boiled down pretty easily: two of them are against two of the best three sides in Italy. The other is against Chievo. Given that Roma tend to play to the level of their opponent, this would traditionally be the match to worry about. However, one of the themes of this season and Aurelio Andreazzoli's helm in particular is transforming the club from the one well-known to a totally different side. Old Roma would have lost against Fiorentina last weekend, but Roma didn't. Then again, old Roma would have dropped points against Palermo and Pescara, and Roma did. Transitions are never smooth.

Or is this season just a false dawn? It'll be impossible to say for sure until these final three matches are played. Sitting in fifth right now, the club have destiny entirely in their own hands. A Europa League spot would be a fine finish for a campaign that began inconsistently, came alive briefly before the winter break, faltered to a total stop until late winter, and then finally saw some semblance of form under Andreazzoli.

That Coppa Italia trophy would also be fantastic, but that's getting ahead of ourselves. First: clash one of three must-wins.

The Opposition

Chievo are mediocre. They're fourteenth in the league, have no reason to fear relegation, and are no chance at all for a European spot. After defeating Napoli 2-0 and Pescara by the same scoreline in mid-March, the side have endured six weeks of truly dire football: three losses, two draws, one win, two goals scored, and five conceded. If there was an award for being the Ben Stein of calcio clubs, Chievo would be a shoo-in.

Of course, boring is just the football cousin of resilient. The five points during that time period have come from dull football and five-man backlines. The side went with a 5-3-2 against Cagliari at home which begot them a point last weekend, and they only seem to change marginally to a three-man backline that can convert back to five against opposition they believe they can defeat, like Siena.

Nevertheless, the side tends to leak goals. They've scored a shockingly low 33 goals in 35 games so far this season but have conceded 49. Recent history is on Eugenio Corini's men's side. However, they won the reverse fixture at home in December in what was actually a water-polo match and Luis Enrique's team failed to defeat them away last season, securing a 0-0 tie.

The Home Side

As for Roma, the side should be brimming with confidence after the win over Fiorentina. Udinese and Lazio also won over the weekend to keep pace with the club, lying just one and three points behind respectively. Granted, both have big clashes on Wednesday - Lazio against Inter and Udinese away against a Palermo side desperately fighting relegation - but this is no time to concede a lead. Thus, to secure fifth place in the league, winning is almost absolutely necessary for these final three games; relying on slip-ups from that duo could prove fatal.

In his press conference before the match, Andreazzoli mused that he may rest Francesco Totti and/or Erik Lamela given that the side have to take on Milan this weekend. He also noted that Miralem Pjanic is getting more and more fit but has niggling ankle issues and may not be risked tomorrow. Bogdon Lobont still has that pesky fractured nose and probably won't play tomorrow, although the coach has left that to a game-time decision. Adding to personnel woes are Lamela, Alessandro Florenzi and Vasilis Torosidis who are all one yellow away from a suspension, and the loss of the first two against Milan or Napoli would be massive.

Federico Balzaretti is disqualified due to yellow card accumulation and Maarten Stekelenburg is still injured and thus has not been called up, otherwise Roma have a full squad at their disposal. But due to the aforementioned issues, guessing a line-up seems like it would be foolish. Expect the unexpected, which, in Roma's case, is often exactly what would be expected anyway.

The difference between this time and December could merely be confidence. Roma absolutely have the quality to play and should be able to unlock the Chievo defense, even if it takes a late header from a corner kick, despite the amount of men the away side keep tightly in their box. It might be the perfect occasion to start a silky player like Mattia Destro and throw on Pablo Osvaldo as a battering ram if goals are still needed in the second half. Otherwise, this game has more of a need for creative players like Pjanic and Lamela than a game against Milan or Napoli might, due to the fact that the latter will try to impose their own game and inevitably leave space to exploit. Chievo, conversely, will likely come to play for a 0-0 draw. That might be fine for them, but it almost certainly wouldn't be for Roma.

Flashy and sexy football are not needed. Theres no reason to try and break out the champagne football now. Three points are Roma's duty and are probably necessary, otherwise Roma could see fifth place become seventh - or worse - by the end of the season.

So, you know, no pressure.