The hunt for Europe is back on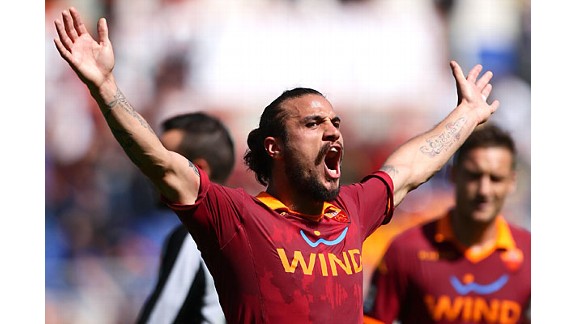 Paolo Bruno/Getty ImagesRoma's Pablo Osvaldo had a hat trick in the win over Siena.
Roma's match against Siena Sunday was the exact opposite of what most fans feared. That means the 4-0 victory was simply excellent. It was very much unlike how Roma tends to be and much more of what Roma should be.

The best part: well, everything. The most enjoyable moment may very well have been Alessandro Florenzi's assist for Pablo Osvaldo's second goal: chasing down the ball to the box, hounding a defender and poking it deep to the striker before it went out of bounds. It was classic Florenzi at his very best: a tireless runner with smart passing who adds a dynamism sorely missing when he isn't at his very best.

Florenzi may have been my particular stand out but most plaudits will deservedly fall to Osvaldo himself. Under enormous pressure from tifosi who never forgave the infamous penalty incident and from the media who constantly link him with a move away, the striker notched a fantastic hat trick.

His goals were all well-taken and excellently finished, from the opener to the final shot that was poked in after Francesco Totti's effort was parried by Gianluca Pegolo in the 67th minute. All is unlikely to be forgiven, however: after all, the suspended striker chose to not go to the stadium and support his team in the Derby with Lazio. In fact, it's entirely arguable that he was playing not for a place at Roma but for a suitor to attract him away, but that should not detract from what was a performance incredibly reminiscent of Gabriel Bautistuta's time at the club.

Nearly every player did what they should have. Federico Balzaretti looked much better than he has since signing from Palermo, Leandro Castan put in a solid performance along with Nicolas Burdisso, and Erik Lamela scored a sublime goal from a fantastic Totti assist. Furthermore, the team did all this without Maarten Stekelenburg and the suspended Mattia Destro, who has been in strong form recently, and Simone Perrotta managed to nab his 400th appearance in Serie A with as a substitute.

Daniele De Rossi's injury was a lowlight in a match that had no others, but Miralem Pjanic and the rest of the midfield continued to dominate proceedings in his absence. Early reports indicate De Rossi has some kind of issue with his right ankle -- the one that bothered him during the aforementioned Derby Della Capitale -- but more tests will be needed before Roma knows if he will miss significant time. He was able to walk off the pitch, which is an encouraging sign.

The team functioned marvelously. The 4-2-3-1 truly brings out the best in the side and allowed Totti, Florenzi, Lamela and Osvaldo to link up fluidly without having to worry excessively about leaking goals at the back. Siena playing like a team that would be nineteenth at the end of the match certainly helped affairs, but a Roma playing at this level should be a match for any side in the league.
"It was just Siena!" Precisely! Roma's performances against Palermo and Pescara illustrate just how poorly the side tends to perform against the worst sides in the league. Aurelio Andreazzoli got it perfectly today, however, from his 4-2-3-1 which brought out the best in all of his players to his choice of the oft-overlooked Bogdon Lobont in net over Mauro Giocoechea.
Roma have now risen to fifth place in the league and face Fiorentina next weekend in a massive clash that may well define how the season ends. That day will be a tense and pivotal one; today, however, is one for celebration.