Evaluating Roma's summer striker swap: Destro and Borini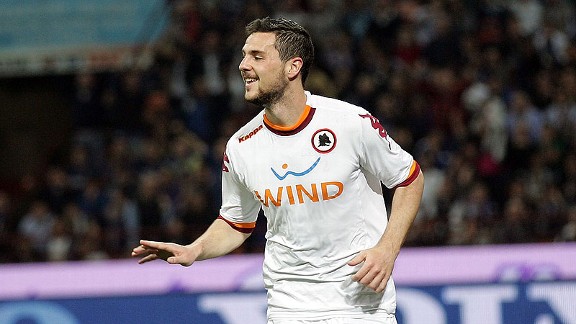 Gabriele Maltinti/Getty ImagesAfter some early stumbles and injuries, Mattia Destro has found his stride with Roma scoring key goals in both Serie A and the Coppa Italia.
Mattia Destro and Fabio Borini have an eerie amount in common. Outside of the football pitch, the two were born a mere nine days apart in late March of 1991. Inside of it, both are young, promising Italian strikers employed by Roma during two consecutive seasons, though not at the same time. Both have suffered medium to long-term injuries this season, and most pertinently, one was more or less a straight swap for the other in the capital club's hunt for a striker. With so much in common, was it worth it for the club to let Borini go last summer and sink more money into signing Destro on loan with the option to buy?

The season was 2011-2012. Borini was one of the smaller names brought in under Luis Enrique, but unlike many of his fellow transfers, he far exceeded expectations. His life in the capital began slowly; his first goal wasn't notched until week nine in late October during his sixth appearance for the club. After that, he featured for Roma more regularly and finished the season with seven goals in twenty-one starts. On paper, seven goals for a striker that looked to be fifth choice is a marvelous tally. Few expected him to play regularly with Pablo Osvaldo, Francesco Totti, Marco Borriello, Erik Lamela, and Bojan Krkic on the roster. On the other hand, a trend among his goals became apparent. At the risk of oversimplifying, Borini scored goals that never really amounted to much.

Of his seven goals, Roma were benefitted by only six points. He scored the third goal in a 3-0 win over Fiorentina in the Coppa Italia in January, the third in a 5-1 demolition of Cesena ten days later, Roma's second in what would eventually end up a 4-2 loss at Cagliari, a double in a 4-0 win over Inter after Juan's opener, in a 4-1 loss away at Atalanta in late February and the temporary equalizer in an eventual loss in the derby against Lazio that May. Take away all of these strikes and the side would have been no worse off points-wise. On two situations, however, Borini did prove to be a match-winner: after a tap-in on the end of Leandro Greco's cross away at Palermo in the third minute of the match in March and a much more impressive shot from inside of the box against Parma that gave the side a similar 1-0 win.

In terms of style, his goals were often due to his work rate -- admittedly, not necessarily a bad trait -- rather than striker's instinct. He capitalized on a truly terrible pass from Fiorentina's defense to slot the ball under Artur Boruc, notched a smash-in rebound against Cagliari, beat the offside trap against Inter, shrugged off Lucio for Roma's third in a 4-0 drubbing and found himself on the end of a rebound against Lazio. Some of his goals, of course, were rather beautiful -- his cutback against Walter Samuel that season was excellently executed -- but the majority were due to location, location, location rather than being a fantastic striker.

That same season, Destro was having a more prolific impact for Siena under Giuseppe Sanino. The 21-year-old would finish the year as the side's top scorer with twelve goals in twenty-six starts. In short, he scored more goals in more games that counted... well, more.

Tying strikes against Lazio, Bologna, Chievo; the second in a 4-1 victory over Genoa; a match-winner against Atalanta in the 90th minute as well as winners over Udinese and Chievo in the Coppa; the first two goals in a 4-1 win over Chievo (He really loved Chievo that year); and finally, the opening and closing strikes in the side's 4-0 demolition of Lazio, which practically put him immediately on the Roma transfer list.

It's now July. The club had sorted a tricky negotiation with Parma and fully purchased Borini for 5.3 million euros in June. With only fifteen starts for the club that season, his tally brought his goals/game ratio to a very respectable 0.47 and he looks to be an easy purchase for the team. A few weeks later, Liverpool asked the club if thirteen-plus million euros would be enough to part with him and Borini was promptly shipped off to England. Despite his status as a fan-favorite and his very good season, six points from seven goals was hardly an irreplaceable tally. Just for comparison's sake, the oft-maligned Osvaldo scored eleven goals that season, many of which were vital strikes (winners against Parma and Siena, the opener in draws against Siena and Catania, in an eventual 3-1 win over Udinese and crucial second goals in games against Napoli, Bologna, Inter).

More importantly, there was a certainly young Italian talent at Siena that the club seemed keen on nabbing. Weeks after Borini's departure, Destro was brought in on a temporary deal worth four-and-a-half million, with the option to purchase for an additional eleven-and-a-half million.

Both Roma and Liverpool thus invested heavily in strikers that summer who each had a good season with an Italian club. As this season draws to a close, comparing the two would seem unfair given how Borini has experienced two long-term injuries. Nevertheless, Destro's goal tally, style of play, and impact on matches would suggest that Roma have made the right move for the future.

On paper, Destro is the better striker. His goals during the 2011-2012 season demonstrated as much: A header against Lecce from a great run-and-jump over the defense; incredible solo skill for the goal against Chievo (one of his many) to beat two men, turn outside the box, and rifle in a shot; a dinked lob for the Azzurrini, even.

Life at Roma did not begin so ideally as Destro began the season on the bench behind a trident of Totti, Lamela and Osvaldo. His first appearance, against Inter in September, begot only a yellow card. However, he impressed under Cesare Prandelli for Italy against Malta in World Cup 2014 qualifiers and scored an early goal to help fire Italy to a 2-0 victory. He featured frequently for the side in the wake of Osvaldo's suspension but failed to find the net until November.

And even that proved to be less than ideal, as his debut goal was blighted by controversy; in the midst of finally breaking his drought, Destro removed his shirt after scoring the team's fourth against Palermo, received his second yellow and was promptly sent off. His minor suspension did little to affect his form. Upon his return, he scored against Pescara, twice against his old club Siena, and then against Atalanta in the Coppa Italia shortly before the winter break. After the holidays, his goals dried up in Serie A but he notched in both of Roma's Coppa Italia matches in January before suffering a knee injury that saw him out for two months.

In recent weeks, Destro looks to have made a full recovery. He scored a brace against Inter to knock his former team out of the Coppa and scored the tying goal against Pescara last weekend. He looks as good as ever in his return from injury and has established himself as a new focal point for the attack as Osvaldo heads for a summer exit.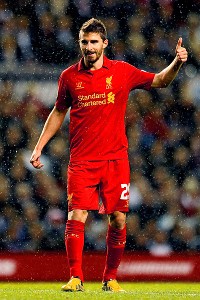 Andrew Powell/Getty ImagesInjuries limited Fabio Borini to just nine Premier League matches in his first season at Anfield.
Borini would prove not to be so lucky with injuries. He got off the mark much faster at Liverpool, scoring in his first match in a Europa League clash. In October, however, he was ruled out for three months due to a broken foot sustained against Manchester United. Little more than a month into his return, he collided with Kyle Bartley against Swansea City and was ruled out for the rest of the season with a shoulder dislocation. Barring a faster-than-expected recovery, Borini will only have played nine Premier League matches this season without scoring in any of them; for comparison, Destro has made eighteen total appearances, nine of them as a starter, and has scored five for Roma in Serie A and a further five in four Coppa Italia matches.

Neither Fabio Borini nor Mattia Destro has shown the goal-scoring ability or the promise of last season, although injuries and rotation in bigger squads were both realities each had to cope with since last August. There's no doubt that by selling Borini and acquiring Destro, the capital club rolled the dice by selling a striker who had proven he could fit into the team for one that came with no such promise.

Almost a year later, the jury is still out on both young strikers, but Destro is certainly on the right path to becoming a major player in the capital.