With 12 words, Osvaldo presents his pink slip (maybe)
"The fans have had it with me. They don't love me here."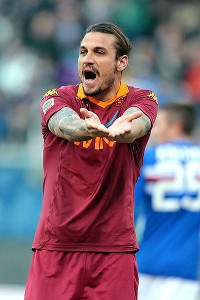 Gabriele Maltinti/Getty ImagesRoma supporters are likely tiring of Pablo Osvaldo's 'woe is me' act.
With those words ascribed to Pablo Daniel Osvaldo in Thursday's Gazzetta, (assuming this was a valid quote and not just something made up like the frequently fabricated stories in Italian newspapers) the exit is all but nigh.

Osvaldo has fully embraced the role of the new Mirko Vucinic; a brilliant and frustrating striker who scores beautiful goals and misses easy ones, eventually falling out with the fans, leading to a loss in form and a (probably) transfer away. A lack of minutes under Aurelio Andreazzoli has lead to a dip in form -- or is it the other way around?

The words are disheartening. Osvaldo has had the fans against him for at least as long as the infamous penalty incident against Sampdoria in February. Since that match, he's not scored in 328 minutes.

He was benched against Udinese and has seen sporadic time since then as a substitute; the final straw may have been a trip to London with his girlfriend instead of going to Monday's Derby to support his side.

Which, frankly, is somewhat inexcusable. As a comparison, Bojan Krkic was at the match against Lazio. Yes, the same Bojan Krkic who isn't even a Roma player anymore.

Nevertheless, speculation that the striker is destined to leave Roma this summer will reach its apex now. It's hard to see a way back for the man, who has done more than reasonably well in the Roma shirt, but has never been the consistent goal scorer that the side has needed, either.

In reality, many fans have been against him since he was signed, believing him to not be good enough for the club despite 11 goals in 23 games this season and the same tally in 26 matches last year. With Mattia Destro and Nico Lopez waiting in the wings, a transfer would not be terrible for the club either, especially if the money were reinvested in the areas that truly need it: creativity in the heart of the pitch, defense, and goalkeeper.

Osvaldo is not the only topic in Roma:

Daniele De Rossi: dissected Wednesday, whispered about Thursday. Numerous sources speculate he too may leave in the summer as either Jose Mourinho or Carlo Ancelotti look to swoop him up for whatever club they may be at next season. Real Madrid continuously emerges as the leading candidate for his signature.
My take: he's a Roma player now and he will be in September, pending any unforeseen desire to leave on his part. This is purely a continuation of the never-ending rumors that DDR will leave that come about every transfer window.

The referee for Torino-Roma on Sunday has been chosen: Andrea Romeo. Do with this information as you see fit.

Torino have a few very similar faces on their roster: Matteo Brighi and Alessandro Cerci. The latter is available to face his old side this weekend but the former has yet to recover from a niggling injury, which may be bad news for Roma. Cerci is having an excellent season as one of the few good wingers in Italy and has been called up by Cesare Prandelli as a reward for his efforts.

Speaking of Torino, Andreazzoli tried out a very similar formation to what we saw against Lazio Thursday in training. His 4-3-1-2 saw Maarten Stekelenburg playing behind a back four of Vasilis Torosidis, Marquinhos, Leandro Castan and Federico Balzaretti (who looks to be dueling with Marquinho for that full-back position). Interestingly, Miralem Pjanic has been dropped deeper into the midfield where he's truly more effectively, playing alongside Michael Bradley and Alessandro Florenzi as De Rossi is unavailable. Francesco Totti returned to his trequartista role with Erik Lamela and Osvaldo in front of him, although playing Osvaldo would be very interesting considering his words Thursday. A response to them, or an indication that Andreazzoli didn't know about them? (An alternative: Roma issuing a statement denying the words were ever uttered)

Lamela picked up a knock to his right ankle and may miss the Torino match. The full extent of his injury should be known Friday.