The warden who was also a prisoner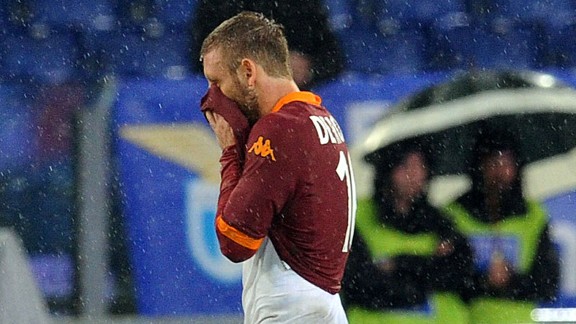 GettyImagesDaniele De Rossi could be Roma's saviour or its nemesis
The image of Daniele De Rossi that presents itself in my head when I think of the man remains the 2006 World Cup, where he almost literally stamped his authority on the pitch, turning a cliche into a veritable act. From the ignominy of being sent off after elbowing Brian McBride, the resulting suspension until the final, to an ending with a penalty kick scored in the dramatic win over France. That was his World Cup as much as it was Marco Materazzi's. The celebrations! The glorious, glorious celebrations.

The cynic may suggest this is an issue: 12 years at the club I support and the enduring image is him on the Italian national team.

When De Rossi rejected Manchester City's advances last summer, it was heralded as a bold support of loyalty in an era dominated by money. Oddly enough, it was merely six months after he signed a five-year contract extension that guaranteed him to be the highest paid player at Roma. Certainly, Roberto Mancini's side would have been able to easily increase his stipend, but the decision was hardly as dramatic as it was made out to sound. The club had no reason to sell their star player, coming off of a very good season under Luis Enrique and just after he shone equally brightly for Cesare Prandelli in the Euros for Italy. The new owners have made it very clear, after all, that cash is not the side's issue. No, the issue is building a team to win trophies and to become one of the biggest in Europe, and selling the star midfielder at a high point would thus be counterintuitive.

The Roman's career has been punctuated by long spells of dips in form in between monstrous months in the midfield. External circumstances tended to coincide with his poorer runs, with massive issues like a divorce and a custody battle clearly affecting what happened on the pitch. Understandably so. Most fans realised that personal life issues can't merely be tuned out for ninety minutes once a week, and thus were willing to cut him some slack. After all, it's Daniele De Rossi! Capitano Futuro! The midfield general who rose through the ranks, Roman through and through, a primavera player turned World Cup winner. The difference between Roma and many other clubs is that the likes of De Rossi, Francesco Totti, and Alessandro Florenzi are brought up through the youth system and stay at the club for their whole careers. Talent is not only bought, but also raised - and not just any old talent, but genuinely world class stars, even, at times.

Here come the despites. Despite the contract, despite the Roman status, despite all that he represents - Roma the brilliant and Roma the disappointing - the De Rossi situation isn't yet settled. By the age of thirty, a sense lingers that this really should have been settled by now. After twelve years of playing for the senior side, tifosi should know Daniele through and through and the reverse should also be true. If anything, these should be the golden years of his time at Roma; surely, not many players can locate and drink from the Fountain of Youth as well as and for as long as Totti has been. For a central defensive midfielder, thirty is unfortunately the point at which more of one's career is behind him then ahead of him.

Instead of a closed case where one would see De Rossi staying at Roma, putting in dominating showings in the heart of the park, leading the side to trophies ... there's a nagging question that keeps emerging from some sections of the tifosi. Yes, yes, he was a great player - but is he still, really? Has he forgotten that he shone brightest as a defensive midfielder and not as a regista? Does he no longer care about shielding the back as much as he does trying to set up the offense? If another big offer comes this summer, can the club afford to say no to massive money for someone who will be thirty in July?

There is no easy answer. Daniele De Rossi, for me, epitomises Roma: when he/it works, he/it works gloriously, and when he/it doesn't, he/it's infuriating. In my humblest of opinions, De Rossi non si tocca; and not because I firmly believe him to be the best midfielder in the world - which I don't - but because of what he represents. Crucial to Roma's identity, first and foremost, is Francesco Totti. Of that, there's no denying. But what would be second? What player sums up the beautiful play, the near misses, the agonizing defeats that have been a staple of this side for the past twelve years? What player better than the man who was often at the heart of it all - for better and for worse?

With the proper coaching, I don't see why De Rossi cannot return to the glorious heights that he once reached. After all, Luis Enrique was able to get the best out of him, and his play for Italy under Prandelli has similarly been very, very good. It would be simplistic to reduce the solution to "find the right coach, dummy" but there's definitely a sense that certain coaches are able to bring the best out of Daniele.

That, of course, is also part of the problem.

An icon, a figure of passion, a staple of the side, a dominating warrior. He's a symbol of the side's biggest Achilles' Heel, a man who plays only where he wants to, a player who seems to forget what his role is, a leader only in name only. In one universe, he's the answer to Roma's problems; in another, he is the cause.

Is it worth excising the soul in a bid to save the body?

He's a conundrum. He's Roma's conundrum - exacerbated by the fact that he's also a Roman conundrum - but a conundrum nevertheless.