Fair and even, but not enough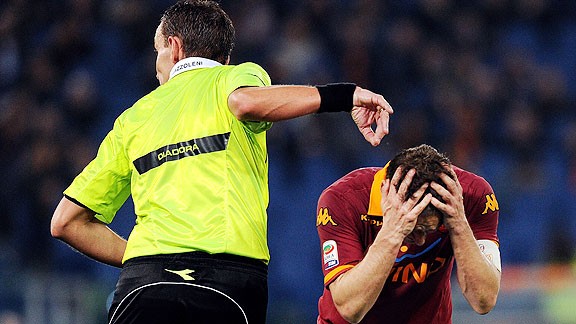 Giuseppe Bellini/Getty ImagesOverall, it was a disappointing night for Roma's Francesco Totti, right. However, his goal was his ninth in the Derby, tying him with Dino Da Costa and Marco Delvecchio atop the rivalry's all-time scoring list.
We've been there before. We know the feeling all too well: with much on the line, fortune looks to have finally swung Roma's way. It looks as though the reverse of the norm will come to fruition: Could it be? The team coming back from a deficit to grab a win against 10 men?

No. We are who we thought we were.

-- Match Report: Roma 1-1 Lazio
-- Video (UK, Ireland only)

First-half Roma against Lazio looked an awful lot like first- and second-half Roma against Palermo -- which is to say, dire.

The tactics were head-scratching: on paper, Aurelio Andreazzoli put out a 4-3-1-2 derivative which was the first time under his short tenure that the side have not played with three men at the back.

Also on paper, it looked pretty good. Leandro Castan to partner with Marquinhos as a center-back duo is pretty much all a Romanista could ask for; a midfield of Daniele De Rossi, Alessandro Florenzi, and Michael Bradley behind Miralem Pjanic looked as if it would be a great combination of grit and flair.

With Mattia Destro only fit enough for a substitute's appearance and Pablo Osvaldo well marginalized nowadays, Francesco Totti and Erik Lamela aren't bad options to have as strikers, either.

On the field, none of that came to fruition. Marquinhos has made the rare error before, but Monday was his first match where he looked, well, like an 18-year-old centerback, giving away a penalty that Hernanes rocketed wide.

De Rossi had a very poor match and Marquinhos was exposed for what he isn't: a full-back. Pjanic looked a shadow of his usual self, noting after the match that he's not quite fully recovered from his leg injury but emphasizing that he knows he must do better regardless.

The rest of the midfield failed to gel, conceding far too much time and space to Lazio in the first half -- time and space that Hernanes capitalized on to give the visiting side the lead.

And if Marquinhos and Pjanic are having poor games simultaneously, what hope do the side really have?

The second half was much better -- somewhat fittingly so since Roma only seem to turn up for one half this season. Destro's introduction sparked a spell where the home side looked very good, clearly buoyed by the penalty that Hernanes gave away (the man was everywhere, for better and for worse) and Totti slotted to the left, away from the outstretched Federico Marchetti, to unleash a yell that his favorite record was the one his goal gave him -- his ninth Derby Della Capitale goal puts him in a three-way tie at the top as the rivalry's top scorer, along with Marco Delvecchio and Dino da Costa.

Then Giuseppe Biava was sent off for a second yellow and the resulting draw became inevitable.

Roma have a clear mental inability to win when the opposition is a man down, and Lamela's header that blasted over the bar with less than 10 minutes to go stood as a clear reminder: that mentality has yet to leave. A 1-1 result was probably fair in the grand scheme of things, each club having a better half, but does little for the aspirations of either side.

In fact, a draw was the most Roma thing about the game. Traditionally, the team plays up to the level of their opponents, but has tended to choke in recent seasons in must-win matches. So, naturally, it was a tie.

Andreazzolis men are snuggled in seventh place, 10 points behind third and three behind Lazio in fifth, where the final Europa League spot lies. With seven matches to go, European qualification is still possible, but the run-in remains far from easy. Only two of the remaining league matches are against a side not in the hunt for Europe nor risking relegation (Torino and Chievo are both looking pretty safe at this point).

Matches against Fiorentina, Milan, and Napoli will give Roma a vital chance to make up ground on the top six but also prove to be a worrying trap: one slip-up could mean the end for any hopes of even a Europa League spot.

Even more worthy of chomping on fingernails are the remaining matches against the teams embroiled in the relegation fight. Pescara and Siena will look at the Palermo match and surely believe it possible to gain points against a side that historically underachieves against the league's worst.

The next nine days could be the most important. Depending on how the side come out of an away match against Torino and then the second leg of the Coppa Italia semi-final away against Inter, the season could be shaping up for a glorious run-in or be practically over in mid-April.