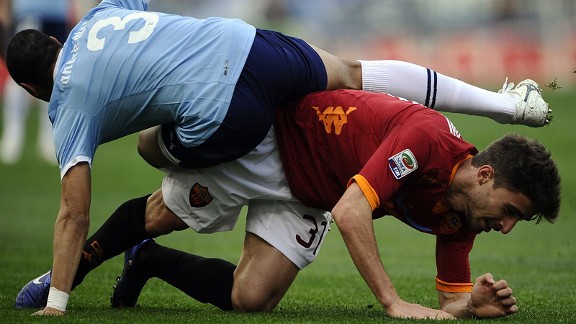 GettyImagesThe Eternal City derby between Roma and Lazio is always a feisty encounter
I watch Lazio approximately two times a year: when they play Roma away and when they play Roma at home (There's a joke here. Think about it.) Most Romanisti have a hatred of Lazio, but I think I've evolved beyond that. I don't hate Lazio, because that would imply that I actually spend time thinking about them, and the only thing worse than hatred is indifference.

Nevertheless, the Schaenfreudian inside of many Romanisti worldwide has taken a thorough enjoyment in watching the city's other team tumble down the standings since the New Year. In many ways, it was entirely predictable: Lazio enjoy a blistering start to the campaign, journalists insist this year they're the real deal, talks of a Scudetto challenge emerge, and then Miraslav Klose gets injured and they go tumbling down the table. They've won twice in their last six games, which means that of the twenty four points available during that span, they've taken as many as Palermo.

That sentence stings a bit considering last week, so let's move on.

The reality remains - no matter how laughably Lazio's fight for the Scudetto turned into a fight for fifth place, they remain above Roma in the table. That stings even more.

One of the few things to look forward to under Claudio Ranieri were the capital derbies. For some reasons, he had them figured to a science and Roma won five in a row under his tutelage. Since his dismissal, results have swung the other way, with the red and yellow side losing three straight. Roma have not failed to score in the derby since 2007, which is a fantastic run of twelve games straight at least netting once.

However, statistics mean little in a one-off game, and both sides find themselves coming into this match with the prospect of a terribly disappointing season awaiting them by May. The good guys lay seventh in the table with 47 points; those other dudes have three points more and are one place higher in the table.

At the very least, Marquinhos is finally back in action and Miralem Pjanic is fit enough to start, but Pablo Osvaldo and Ivan Piris are suspended. Aurelio Andreazzoli will probably opt to play Francesco Totti up front with support from Erik Lamela rather than rush Mattia Destro back from injury.

Lazio will be without Konko, Dias and Floccari but otherwise look to have a more or less full squad and that's my full report on them.

Ultimately, both teams could finish their seasons well below where they hoped to have been. It's not entirely unrealistic to assume that neither will get even a Europa League spot, indicating that this derby may be a small opportunity for bragging rights and a small sliver of dignity. It nevertheless remains undeniable that this match somehow feels less than how it should. It should be a massive deal; a clash of two teams so desperate for points that a minor slip-up could spell disaster. As Blogistuta points out, however, it's really just a crash course in reality for these two sides.

There is no Scudetto on the line. There's no Coppa on the line. Hell, with three teams and seven/ten points between Lazio/Roma and third place, it's even a stretch to consider Champions League football on the line. At best, a spot in the Europa League might be there for the taking, but even that remains out of the grasp of the two sides and fully within Inter's and Fiorentina's to lose.

Winning a derby is always fantastic, but it's a little bit nicer when there's actually something to win.