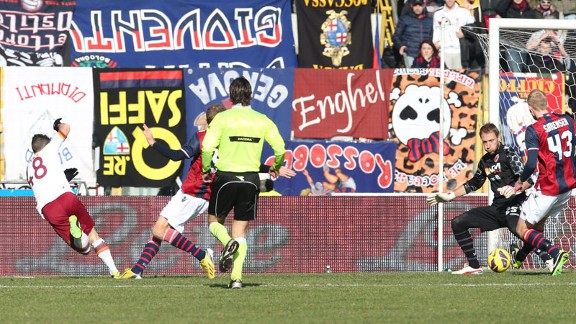 AssociatedIt is difficult to see Roma reaching third, despite moments of success this season
Accepting Year zero, round two.

Mathematically speaking, there's no reason to believe that Roma can't make third spot in Serie A by the end of the season. Eight games left to go leaves the team with 24 possible points to gain and a gap of only ten between where the side currently lay and the final Champions' League qualifying position. The numbers suggest it's possible.

Realistically, it just isn't. Milan have been a staggeringly good team in the second half of this season, with Massimiliano Allegri, Mario Balotelli, and that little bit of luck that all sides need to win combining at just the right time to propel them up the table. Only Juventus have equalled their sixteen points accumulated over the last six matches. The heartbreaking part of it - Roma are just slightly behind that, with thirteen. The capital club have been nearly just as impressive in recent weeks; it's the past now that condemns them to failure.

For even if Milan were somehow to drop those ten points, Roma would have to make up that differential in games against Lazio, Inter, relegation-fighting Pescara and Sampdoria, Fiorentina, Milan itself, and Napoli. In a word, the side's run-in is brutal. In a theory, it would have been vital to enter this part of the season already in a Champions League spot with a point buffer between the chasing teams to ensure against slip-ups – a buffer that should have been built up away against Palermo, Sampdoria, Chievo, and at home against Cagliari.

If, for a moment, the notion is entertained that somehow Roma do go on a belief-defying run during these final eight weeks of the season, the reality is that it is not only Milan that must be leapfrogged, but Lazio, Inter, Fiorentina, and maybe even Napoli, who are just two points above Allegri's side in second. And what's left to suggest the side are capable of such a run after losing to Palermo? Playing down to an opponent's level is one thing, but choking is another. The line between the two is starting to blur dangerously.

At the start of this season, Francesco Totti uttered a line that could have been a rallying point. Instead, it now comes back to haunt this team. "This cannot be another year zero," he said, referring to the false dawn of Luis Enrique's side where the joga bonito never really came to fruition and the points never really came at all. After 30 matches last year, the Spaniard's team collected 47 points and lay in sixth. This year, after 30 matches, the side have 47 points and lie in seventh.

That's actually worse than the warning il capitano gave the team.

The frustrating part: there's no doubt that this squad has improved leaps and bounds compared to last season. The arrivals of Leandro Castan and Marquinhos alone should have shored up the back, but a combination of super-aggressive football from Zdenek Zeman, the inherently attacking nature that this club seems to demand, and periods of settling in have seen the side no better off defensively. It should have been the year where Daniele De Rossi and Miralem Pjanic cemented their relationship in the middle of the pitch. Instead, the former has looked a shadow of himself from last season as both have found themselves confined to the bench at various points under Zeman. The offence has done a more than respectable job, thanks partially to Totti's renaissance, but at what cost does this side so desperately race forward for goals?

Looking towards the future – the transfer window that lies during this summer and the season beyond it – there's little doubt that there is a solid backbone for this side to grow. No team in Italy has as much fantastic youth running throughout the core of their side as Roma does. Walter Sabatini has done his job and, with a few key reinforcements, it will become harder and harder to point at the deficiencies of the squad as a reason for continued failure.

President James Pallotta has stated on numerous occasions that he wants Roma to be one of the biggest clubs in Europe. The power remains solely in his hands to do so. He simply must hire the proper coach for this side come summer.

Because year zero, take three, is nearly unthinkable.