Roma are still what we hoped they no longer were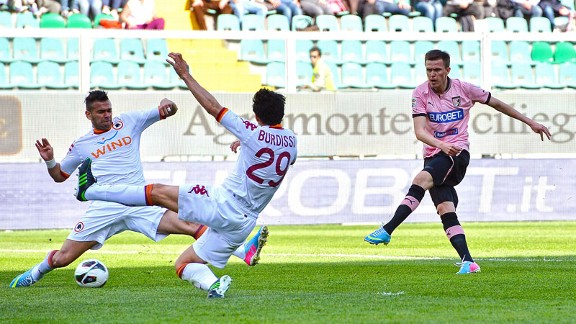 APJosip Ilicic scores Palermo's opening goal against AS Roma
This review will be direct and to the point, unlike Roma's passing on Saturday. I won't concede much space to writing about Palermo, unlike Roma's defense at the Renzo Barbera. Instead, I'll say this: losing 2-0 to Palermo is unacceptable. Let's go over the pros and cons of losing to Palermo:

Pros: Nothing.

Cons: It's Palermo.

Traditionally, Roma have always struggled in Sicily. Even under the glory days of Luciano Spalletti, a trip to that island down south had Romanisti preparing mentally for the worst, no matter how poor of a run of form the home team was on nor how good a form Roma was in. That was simply part of the old Roma - the Roma under Rosella Sensi and even further back than that, stretching the years into eons, as if it were written within the city's DNA that mental blackouts had to occur.

There within lies the problem. This Roma is not the Roma of old; it simply cannot afford to be and it's certainly not what James Pallotta and the American consortium would have hope for. The team of old would have lost this game on a day when Fiorentina and Inter also lost and would have wasted a fantastic opportunity to make up vital ground in the race for a European spot. The new team should have experienced a routine victory against the league's worst side, despite the fact that Palermo, for all of their woes this season, have only lost five times at home. Saturday should have been their sixth. Instead, it was their fourth league victory in 2012-2013.

The old plagues reared their head one more time. An international break ruined the momentum the side had under Aurelio Andreazzoli. A promising coach was exposed as shorn of ideas, questionable decisions, and an inability to motivate the side to convincingly beat teams they should convincingly beat. Roma once again found themselves playing down to the level of opposition; this was not the same team that somehow defeated Juventus. It wasn't even the same team that tied Udinese a few short weeks ago. It was a team in regression.

The true issue remains a mental one. A dour first half saw the side go into the break down by two. Miralem Pjanic and Pablo Osvaldo then came on; if only the former had been fit to play from the beginning, if only if only - his impact was immediate and lasting the entire half. The same cannot be said of the latter, who wasted opportunity after opportunity in front of the net like the rest of his teammates.

Several things have become clear: Panagiotis Tachtisidis and Nicolas Burdisso should not be starting for a team of Roma's ambition. When Miralem Pjanic and Alessio Romagnoli are fit, there's little comparison to be made. Whether or not Aurelio Andreazzoli deserves to be coach remains to be seen. For all of the hard work he's done, the side took major steps back tonight, and Roma need less of a tactician than a psychologist.

Up next is the derby, against a Lazio, who managed to pull out a slightly fortunate win this week and who have been excellent against Roma for several seasons now. Ivan Piris and Osvaldo will both be suspended, although there's hope Marquinhos may return. I f there was any doubt how much that 18-year-old meant to this side, simply re-watch the goals conceded on Saturday.

Roma could have seen a new dawn as they broke the shackles of the past. Instead, all that appeared was a ghost.