Downside of optimism: relying on momentum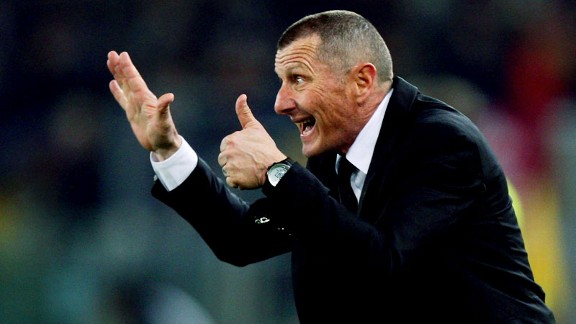 Paolo Bruno/Getty ImagesAurelio Andreazzoli's newest test as Roma manager will be to keep the team motivated against a lower-quality opponent this weekend.
This season will be looked back upon as one that unfolded in phases. Luis Enrique's tenure in 2011-12 was more or less a continuity: some brief highs, some staggering lows, but overall a project that never took off.

2012-13 has at least three distinct segments: the pre-Christmas joy that saw Roma playing beautiful football after an adjustment period to Zdenek Zeman; the post-Christmas spiral that needs no introduction; and the Aurelio Andreazzoli 'era'. It's this latter period that has yet to be truly defined, though Roma's match away at Atalanta Saturday should be an indicator of just how far this side has come - if at all.

Among rumors of foreign investors buying a minority shareholder's stake in Roma, worries about injuries to Daniele De Rossi and Francesco Totti, whispers that nearly every young player at the club is destined to move to a bigger club this summer, Andreazzoli's side have been quiet.

The 1-0 win over Juventus last Saturday spoke for the club in a way that no real words have to follow. From a fan's point of view, a massive burden has been removed from the shoulders of the side, allowing for some much needed relaxation and downtime. One could imagine that the players feel the same way.

The win over Antonio Conte's men proved to be one of the biggest matches of the season, but it didn't really have to be. Roma needed a win desperately, to be sure, but most would have expected Andreazzoli to need a few more games to find his rhythm, would have excused a loss against the league's best, and would have looked to this weekend's match as the real starting point of the second half of the season. By exceeding all expectations, as this Roma side have come to do quite often, the pressure on Sunday's match has become somehow even bigger.

Because now things are different. Now Roma have proven that they can tangle and defeat the very best in the league, that each player can contribute to the team so the output is greater than the whole. Now, the club has proven for the first time this season that energy levels, desire, and ability to score can be maintained or even improve in the second half. Now no one will be wondering whether Roma can find their feet: now, it will be expected that the side learns to run.

Momentum. This match can be reduced to the notion of momentum. After all, beating Juventus means nothing if the side fall to Stefano Colantuono's 15th-placed side that has just one win in their last 10 matches.

Losing would be what Roma of the late 2000s would have done: ruin momentum by playing down to the level of their opponents rather than carry the same intensity into each match. In fact, a loss would be the easy prediction this weekend. Roma lost this same fixture last year 4-1 with German Denis scoring a hat trick and two players being sent off. Sure, Roma won 2-0 in the reverse fixture earlier this season, but this is a match that the Roma of the last five years loses nine times out of 10.

For the Roma of the future to be successful, for this ownership and project to have any meaning at all, the club must re-establish itself. Appropriately enough, the side will be without the two pillars of their past: capitano presente (Totti) and capitano future (De Rossi). Alessandro Florenzi and Nico Lopez are currently expected to fill in for the duo: perhaps there's no better moment than this to shun tradition and begin anew.

Beating Juventus was a feat the old Roma was capable of. Beating an easier side directly after is a true test of Andreazzoli's ability. A true test of just what this side have learned, of how far they've grown, of just how much they could achieve.