A memorable first win in 2013 for Roma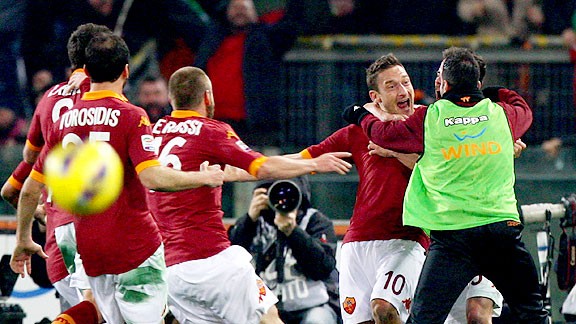 Paolo Bruno/Getty ImagesFrancesco Totti's second half strike helped Roma earn their first home win over Juventus since 2004.
With one ferocious strike at the edge of the box, Francesco Totti catapulted Roma to their first league win in 2013. Although the goal-scorer was predictable (who else to carry Roma when they need to be carried the most?), the opponent was anything but. The capital club have lost to Sampdoria, Cagliari and Catania since December but managed to put on a marvelous performance to defeat league leaders Juventus.

- Match report: Roma 1-0 Juventus

First, the bad: the side continue to be profligate, missing numerous chances to increase their lead or open the scoring earlier than Totti's second half strike.

The good: nearly everything else. Aurelio Andreazzoli's second match in charge saw him utilize a 3-4-2-1 with fantastic results. Juventus dominated the early part of the match but Roma continued to grow into it -- and most impressively, got better in the second half which has been an Achilles heel for the team this season.

Vasilis Torosidis had a standout performance on the flank; Pablo Osvaldo may have missed chances but integrated the rest of the attack very well and Miralem Pjanic shone in the second half in a more withdrawn role. Often, Zdenek Zeman's biggest problem was trying to force a regista to play without a mature one available. Andreazzoli has avoided this to an extent by giving Pjanic freedom in the midfield and Daniele De Rossi to shield him.

Furthermore, Erik Lamela continued his great form from last match and matched up terrifically on the flank. He still has a tendency to over-dribble instead of passing or shooting, but at 20 years old, the Argentine has all the potential to become world class. One of Roma's longer terms goals is to harness it.

Maarten Stekelenburg had perhaps his best game in a Roma shirt yet. One poor cross fumble aside, he kept out everything Juventus threw at the goal. Moreover, Nicolas Burdisso, Marquinhos, and Ivan Piris proved a very sturdy backline. It's not easy to keep the league's best overall side and best offense from scoring, but the four at the back did all they were asked to do.

Moving forward, this is merely a start. Beating Juventus is fantastic and all the more delicious when Totti is the match-winner, but it means nothing if the side can't carry on the momentum. Andreazzoli faces another stern test next week away against Atalanta without the suspended De Rossi and Totti, but the side can breathe a sigh of relief knowing that they've finally earned a win in the second half of the season -- and a major scalp against a side Roma had not defeated at home since 2004.