First the firing, now the silence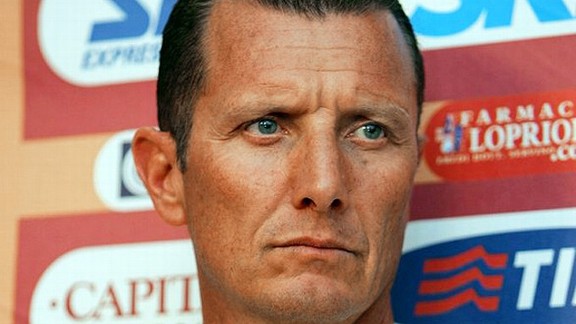 calcioblog.it Aurelio Andreazzoli has a tall task in the months ahead at the helm of AS Roma.
It's been eerily quiet at Roma ever since Zdenek Zeman was sacked. Up until the Bohemian's dismissal, there were enough rumors, finger-pointing and mercato gossip to keep even the most casual of Roma fans refreshing their favorite news site. With the transfer window now closed (except in Brazil, which may have implications for Marquinho), and the former Pescara coach gone, it's almost as if Zeman took all the noise with him, leaving behind a calm and quiet place -- at least for the time being.

Roma are presently in a delicate situation. Aurelio Andreazzoli was initially appointed as merely a stop-gap, until the club could negotiate with and bring in a proper coach, but now it appears as if he'll stay on until the summer. With Laurent Blanc reportedly wanting a long term commitment, and other targets such as Bologna's Stefano Pioli busy with their own team and issues, the new strategy looks to be a wait-and-see approach.

- Spalletti backing Andreazzoli to shine

Andreazzoli might not have coaching experience but he does have years of Roma backroom experience: he was brought into the club in the summer of 2005 to work on analyzing opponents before matches for Luciano Spalletti. He's been at Roma ever since except for a gap between Spalletti's moving on to Zenit and Vincenzo Montella's appointment in 2011. He's served largely the same role in his second spell, in addition to being a mediator with the players.

So what now? With Roma nine points off of a Champions League spot, the first order of business will likely be a return to normalcy. Daniele De Rossi and Maarten Stekelenburg are widely expected to return to their positions in the starting lineup, although Andreazzoli has not spoken at all about the players and his formations just yet. He has spoken about clarity, stating that he has only a few rules but that they must be followed so that everyone knows their role, how to perform, and with whom to do so. Given his role as a player mediator, however, at the very least one could speculate that he'll help calm the goalkeeper situation, but even that's just a guess at this point.

To be honest, there's very little that can predict what Roma's new manager will be like. He's rumored to be a 4-2-3-1 man just like Spalletti was, but other than that, there's almost no indication given that he has no coaching experience. Even training, so often the source of insights about who will start and what formation will be used is no help so far with so many players absent on international duty. His appointment alone does, however, suggest two things: Roma were so desperate for a new coach that they promoted someone internally without any experience, and the club were looking for someone with man-management skills after Zeman left so many players out of his lineups with little explanation. This weekend's match will be fascinating to see just how much Andreazzoli can shake things up at the club and if that'll be enough to see the side winning for the first time in 2013.

Until the final few training sessions before Roma's away match against Sampdoria on Sunday, fans will just have to cope with the lack of news and dearth of rumblings for the first time in a long while.