Year zero, round two: Zdenek Zeman's dismissal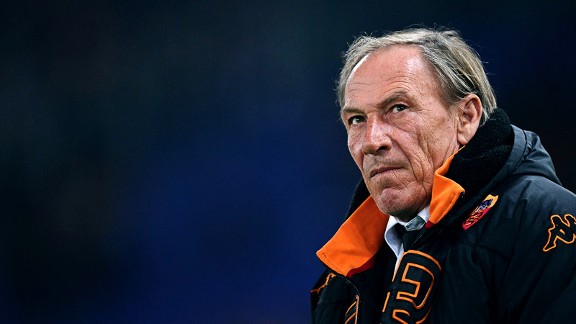 Filippo Monteforte/AFP/Getty ImagesAS Roma are on the hunt for yet another new coach after the firing of Zdenek Zeman.
The last 33 days have been the worst Roma have seen under their American owners. At nearly every turn, there has been an embarrassing press conference, underachievement, lies and foolish decisions.

A quick recap: sporting director Walter Sabatini dismissing any mention of Roma making a signing, despite an obvious lack of quality in midfield, before eventually signing fullback Vasilis Torosidis; the board collectively making no effort to fix the ongoing goalie debacle that has plagued the club this season, which culminated in shipping Maarten Stekeleburg to England, only to realize before his plane landed that they would be unable to sign the desired replacement Emiliano Viviano, thus forcing Stekeleburg to fly back -- the same Stekelenburg who hit out publicly against Zdenek Zeman for being benched just days before.

There was also the public declaration that Zeman was under review before the Cagliari match. This was followed up by the 4-2 debacle and the announcement by Franco Baldini that emotions were high and it would be rash to axe him so soon after the loss, only to see Zeman get fired a mere 12 hours later.

- Roma part company with Zeman
- Match report: Roma 2-4 Cagliari

There's no amount of public relations that can justify the circus that has been Roma since January 1st. Nothing has gone right with the notable exception of two Coppa Italia triumphs. Otherwise, Erik Lamela has regressed massively, Mauro Goicoechea has been completely exposed and shorn of confidence (more on that soon), and the club have taken two points from fifteen possible and slipped down to eighth. In the league, the score differential in 2013 has been minus-seven, with six goals scored and thirteen conceded.

Louis CK has a hilarious interview where he talks about society's insane expectations about technology, entitled "Everything's Amazing And Nobody's Happy". At Roma, everything's terrible and nobody's happy. Not the goalies, nor the staff and certainly not the fans.

Reviewing the Cagliari match is almost anecdotal at this point. Roma were comprehensively outbeaten and outplayed, with the scoreline somewhat flattering to the home side, if anything. Francesco Totti is pretty much the only player to have come out of the match with an acceptable performance, as so often has been the case this season. The defining image of Zeman's reign at the club may very well be Goicoechea flapping so painfully at a cross that he appears to almost throw it into his own net to restore Cagliari's lead. From then on, the match was decided. Roma had no form, no confidence and no drive, as if Goicoechea threw the towel in the net as well as the ball.

It was the proverbial straw that broke the camel's back; yet another defeat on top of another questionable team selection from Zeman. Baldini and company really were left with no choice but to fire the coach, who left both Stekelenburg and Leandro Castan, the side's standout defender besides Marquinhos, on the bench (That's not to mention Daniele De Rossi who has just recovered from injury and was thus a somewhat justifiable substitute).

If one were to run down a list of reasons that Zeman lost his job, his terrible team selections would be extraordinarily high. At one point or another this season, an entire spine of the team has seen itself on the bench for reasons ranging from, "He doesn't understand what I want him to do," to no explanation given at all. Stekelenburg, De Rossi and Miralem Pjanic have all been left out for extended periods, and Torosidis, Mattia Destro, and Bogdan Lobont could all argue for a starting spot given how Federico Balzaretti, the 2013 Lamela and Goicoechea have played at times this season.

Furthermore, Zeman's inflexibility nearly always cost the side. No matter whom Roma faced, Zeman stuck with the same offensive 4-3-3 despite that it left the backline expose; he had the same insistence on a regista when the only one on the roster is the incredibly raw Panagiotis Tachtsidis and the same refusal to take blame for any defeat.

That's not to say he didn't bring any good to the side. His one formational shift all season, to a 3-4-3 against Fiorentina, looked a promising sign that the coach might be flexible heading into the second half of the season (he wasn't). He certainly revived Totti to a wonderful form and furthered the development of Alessandro Florenzi and Lamela, though both have certainly been shorn of their best form since before the winter break.

Ultimately, these achievements weren't enough and the coach simply had to go because, despite arguments from Zeman loyalists, there is simply no way this Roma side should be eighth in Serie A. Zeman was underachieving with the team at his disposal. The Scudetto certainly is a reach too far but this team had a point more last season at the same stage, with a much weaker squad -- and without three points awarded to them for the away match against Cagliari.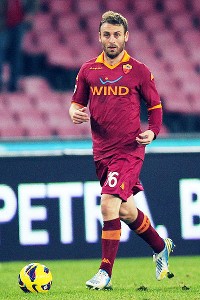 Maurizio Lagana/Getty ImagesA return of Daniele De Rossi to Roma's regular starting lineup would be a welcomed sight for the club's supporters.
A backline featuring the best young defender in Serie A, a Copa Libertadores winner/Brazilian international, a growing Peruvian and the best Italian left-back in the past five years should not have the second worst defense in Serie A (and I'll freely admit Balzaretti has been mediocre at best -- the point remains). De Rossi thrived marvelously under both Luis Enrique and Cesare Prandelli, two coaches who put their full faith in him -- so much so that they played him as a center-back and he responded marvelously. Is it any surprise that his dip in form this season occurred as he's been constantly on and off the bench?

Firing Zeman will not fix this team overnight. There are certainly many questions and many issues that need addressing, including getting De Rossi back to his best, reintegrating Stekelenburg into the side, and trying to figure out a formation that covers the lack of technical guile in midfield -- not to mention, who the coach will actually be, with Aurelio Andreazzoli named a mere interim coach. However, there's little doubt that a change was desperately needed, as was a coach who would form his tactics around the players he has at his disposal, rather than forcing a formation and style that clearly has not been working since the winter break.

The future for Roma is as unsteady now as it's been since the new owners took over. The next step may be the most vital since they've come in. The third coach in less than two seasons needs to be the right one and not another failure, as it's difficult to imagine many of these players stomaching another year of mid-table mediocrity. Zeman, unfortunately, was found lacking in ideas, plan Bs, and man-management style.

His successor has a heck of a job on his hands.