A better show in Coppa rematch with Inter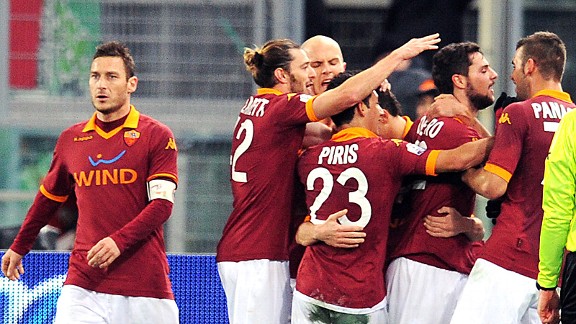 Giuseppe Bellini/Getty ImagesMattia Destro is congratulated by teammates after giving Roma a 2-0 lead.
Facing the same opponent at the same venue with a mere three-day break, with a final scoreline that was just one goal different might suggest that Roma's Coppa Italia semifinal first leg against Inter was just a repeat of the weekend showing. In reality, the performance and the score were both welcomingly different.
- Whittaker: Inter lacking as Roma go leg up in Coppa


With Serie A turning to be a bit of a bust for Roma this season, one could hardly blame Zdenek Zeman for aiming for the Coppa Italia and trying to get his side to be the first team to reach 10 wins in the competition. By the end of the 90 minutes, he was halfway to his goal with Roma's 2-1 victory over Inter Wednesday.
In fact, a quick glance at the team sheets for the first leg of the Coppa Italia semifinal should have been indication enough that the match would be a bit more open; the lack of Pablo Osvaldo, Daniele De Rossi, and Mauro Goicoechea meant Roma had a new trio right down the middle of the team in Mattia Destro, Panagiotis Tachtsidis, and the somewhat surprising return of keeper Maarten Stekelenburg to the starting eleven.
Andrea Stramaccioni made changes as well, opting for Joel Obi and benched the impressive Marko Livaja. The result was an open, incredibly entertaining affair where the home side did just enough to take a slim lead heading into the second leg.
The first half saw Roma at their brilliant, frustrating, typical Zeman-ian best: a quick succession of chances, lots of running, pinning Inter back into their own half. Ivan Piris in particular was sensational as he provided a fantastic cross for Alessandro Florenzi to head home thirteen minutes into the match, before repeating the feat twenty minutes later to allow Destro to double the lead.
Two-nil is, of course, as painful a lead as it gets for Roma this season and thus it was no surprise at all when Rodrigo Palacio took advantage of a quick free kick from Esteban Cambiasso to prod home a goal for Inter. It was the second time in three days he scored Inter's first just before the half.
The biggest change between this match and Sunday was most evident during the second half; although Inter initially pushed forward and hunted for an equalizer, the home side actually put together a string of solid possessions and ventured forward as well this time.
Roma's Erik Lamela and Inter's Fredy Guarin proved nearly equally frustrating for their opponents, missing numerous chances to drive the ball into the net. Profligancy has been Roma's enemy for much of 2013 and was on display again Wednesday, but a solid enough job from Stekelenburg and the defense - the real heroes of the night - nevertheless saw Roma finish the first leg with an advantage.
In fact, it may be the Roma goalie who had the most to gain from the match. He put in a comfortable display – coming off his line when it was necessary and making solid stops while looking assured all-round and playing no real part in the goal conceded -- that may just see Mauro Goicoechea dethroned as the starting keeper.
If second-half collapses are becoming Roma's calling card this season, Zeman is well aware of it. After the match the Giallorossi's coach told RAI his side missed too many chances in the first half before "falling" in the second. Destro echoed the coach's words, saying his side have been "unfortunate" in front of net. "We need and want to do more."
The cynics will say that Zeman's words are somewhat hollow: that it's his duty, after all, to motivate his side enough so that both halves are played with adequate performances. A narrow victory is probably a deserved result on the day, however, and a rare 2013 victory is certainly a step in the right direction if not downright crucial for raising team morale and confidence that can carry into the league following a poor return of four points from the last 15 available in Serie A.